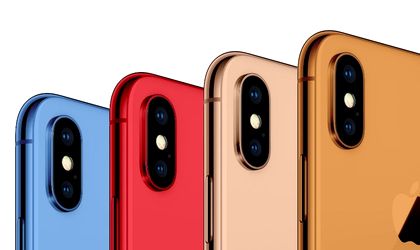 New info is leaking about the next high-end smartphones, including Apple's iPhone X or XI and Samsung Note 9. While the Korean company is confirmed to be launched in August, Apple's phones are waited in the autumn and there are just a few leaks about them.
According to the rumors that appeared in the media, Apple will launch three models this year also. Most probably, we will have an iPhone X with a 5.8 inch screen, one with a 6.1 inch screen and a plus-size model with a 6.5 inch screen.
The X Plus, that of 6.5 inch screen will be the flagship and the most expensive with a USD 1,000 price tag, while the other two will be a lot cheaper, from USD 900 to USD 700.
A brand new thing is the color expected for the models, as Apple is set to include new ones into the market. So, the next iPhone could be available in grey, white, blue, read and orange, a lot more colors from today's options, according to 9to5mac.
As for the Note 9, the colors expected are black, gray, violet/purple, blue and brown. The colors have been discovered in the phone-case makers line, although the brown was not too popular in the past and the Unpacked invitation that Samsung send is hinting towards a gold color.
Anyway, we are about to get a lot more colors in the coming months from the big producers. If we think that the level on innovation for smartphones is quite low when you launch few models every year, it would not be a surprise that the producers will try to attract buyers with new design features, like color.