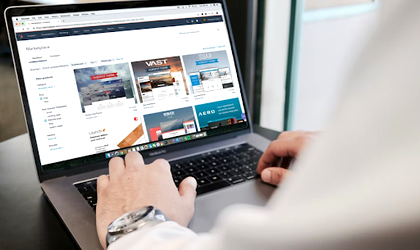 In a time where online shopping grows rampant, a business's online reputation is imperative in securing long-term profits.
In fact, over 80 percent of consumers do online research on businesses before going to their store or website. It's clear that customers can't just rely on word-of-mouth anymore, a company must have an online presence and business tools in place to succeed. As a business owner, are you looking for the best ways to enhance your brand reputation using technology?
Starting with an online reputation management strategy will help increase your digital visibility and drive future customer traffic. Start now and reach customers for years to come. Read below for essential tips for enhancing your brand with technology. To improve your brand reputation, you can also check out this in-depth list of brand identity agencies to hire for your next project.

Use Social Influencers
Social influencers are an effective tool for building a brand reputation with technology. Customers identify with influencers who have achieved success or have an audience that is passionate about a particular brand or product.
By engaging with content creators and leveraging their influence, companies can gain brand recognition and boost their reputation with a target audience.
Through strategic partnerships with influencers, brand promotion and content creation are made easier. Tech tools like connecting with influencers, creating content, and tracking performance can make all the difference in the way a brand is perceived.
Engaging in conversations with influencers, and taking their feedback and opinions, can help to identify customer interests and needs as well as potential market opportunities.
Companies can also engage influencers to share their products with their followers and to create a relationship between the brand and the customer. By using tech tools and strategies, companies can take advantage of social influencers and increase their brand reputation.
Use Hosting Service
With a hosting service, your website is available 24/7, without any downtime or technical issues. Using a hosting service such as WordPress hosting to enhance your brand reputation with technology is a great way to remain competitive and to ensure your website is always up and running. The hosting service also allows you to easily manage, update and maintain the content or services provided on your website, giving you the freedom to focus on other aspects of your business.
Furthermore, hosting services also provide increased security and malware protection, meaning that your website is always running in a secure and safe environment.
Utilizing a hosting service gives you the ability to build robust and performant websites that can provide a great user experience. Hosting services are a great way to ensure your brand remains competitive and reliable and can help to increase customer trust and loyalty.
Utilize Data Analytics
Data analytics can be an invaluable tool in enhancing your brand reputation with technology. By analyzing customer data, you can gain important insights into customer preferences, motivations, and behaviors, then use that to develop strategies that will strengthen your brand image.
You can use customer data to create targeted campaigns designed to engage customers, create more customized experiences, and build customer loyalty.
You can also use data to identify any areas of opportunity or improvement and adjust your brand strategy accordingly. Data analytics is also valuable for measuring the reach and effectiveness of your campaigns, giving you a deeper understanding of the impact of your brand in the marketplace.
Utilizing data analytics in this way will enable you to optimize your marketing efforts and ensure that your brand resonates with your target audience.
Create an Outstanding Website
A professionally designed website will help you reach a much wider audience, build loyalty, and increase trust. Utilizing SEO, keyword-rich content, and user-friendly functionality are a few essential steps to making sure you have an outstanding website that will elevate your brand reputation.
Additionally, making sure your website is mobile-responsive is critical to ensuring users have a great user experience on all platforms.
Furthermore, incorporating social media, blogs, and other forms of interactive features will help your business stay competitive in the digital space.
Quality visuals and design are also essential for creating an effective website. Taking the time to ensure that you have an outstanding website, one that reflects the look and feel of your brand, is one of the most effective strategies for enhancing your brand reputation with technology.
Professional Interpreting Can Help You Build Relationships
Technology has become an integral part of our lives, allowing us to communicate faster and easier with people around the world. To take advantage of this technology, professional interpreters can help bridge the communication gap between people and build trust with customers.
Interpreters can provide accurate and timely interpretations of conversations, documents, and digital content, which helps to build relationships by creating greater understanding and increasing the level of trust between you and your clients.
Professional interpretation services also enable faster and more reliable communication with customers, fostering a sense of goodwill and creating a lasting impression that can help you build your brand reputation.
By using a professional interpreter, you can ensure that you are communicating clearly and accurately, while also showing respect to your customers by speaking their language.
This will enable you to form strong relationships and build a positive brand reputation that will stand the test of time.
Take Advantage of Visual Content
Photos and videos have become incredibly popular on the web, and they provide an invaluable opportunity for companies to create and share their stories.
Utilizing social media platforms, businesses can distribute visuals that not only encapsulate their message but also showcase their products or services in a highly engaging, visually stimulating way.
Visuals can also be used to create marketing materials, website content, and blog posts that demonstrate the company's commitment to meeting customer needs.
Companies can even invest in high-quality video production, which can increase viewer engagement and better represent the brand's value.
Visual content offers businesses a powerful platform to share their message while providing an easy way to keep track of the conversations their customers are having and the responses they are giving.
Taking advantage of visual content can help companies build a strong reputation, differentiate themselves from competitors, and retain their customers.
Utilize Voice Search
Voice search technology provides a great opportunity for businesses to enhance their brand reputation through increased accessibility and convenience for customers.
The ability to quickly and accurately search for information through voice commands enables customers to easily locate the content they need. This can create a positive response to their search experience, increasing customer engagement, and loyalty. 
Additionally, it can provide customers with a more personalized experience, giving them an opportunity to feel heard and cared for as they navigate brand content and products.
Voice search technology can also attract more customers; by incorporating this technology, brands will be able to reach a larger audience, increasing their overall visibility and presence in the market. In order to successfully utilize voice search technology to its fullest potential, businesses should focus on optimizing search results to provide customers with the information they need quickly and accurately.
Additionally, creating a comprehensive voice search strategy can help ensure that customers receive the best possible search experience when using voice commands.
Technology is essential to optimizing a brand's online presence and reputation. By embracing modern technology and following the guidelines in this guide, businesses can make sure their online presence is strong, and their reputation is favorable.
Start improving your brand reputation with technology today!