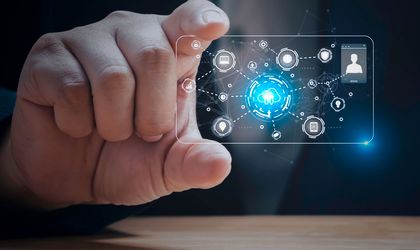 In the highly competitive online business world, modern entrepreneurs prioritize organizational growth. This is imperative as it determines the long-term survival of their companies. With faster company expansion, they achieve greater market dominance while minimizing the risk of competition. In other words, they stay relevant as they generate more revenue for continuity. 
Thus, business owners focus on digital marketing strategies to improve their return on investment. One of which includes using online cards for promoting their products and services. For example, a digital business card app enables employees to share their contact information anytime, anywhere.   
Instead of mass printing cards, a quick-response (QR) code is provided to consumers or investors. This way, the recipients access contact details without keeping a physical card in their wallets. In short, they stay in touch with the business anytime, which means the company gains exposure while growing its revenue. 
This article clarifies how the advantages of digital cards can help your business over time. 
When planning to distribute physical cards, the traditional way is to print hundreds of copies. While this method still works, it's expensive and time-consuming. Aside from that, physical cards are prone to damage and can get wet. This means that the information on the card may become unreadable, which leads to loss of money and lost sale opportunities. 
But with digital cards, you're cutting down printing costs. You only need a mobile device to design and generate the QR code. It also saves time since you don't have to manually insert each card into an envelope or bag before mailing them out. 
And even if you decide to print out the QR code for your physical stores and during corporate events, it won't cost as much. Customers can scan those codes and get directed to the link of your profile. Indeed, going digital is a more cost-effective option, which means you can save on costs. 
Environmentally Friendly Solution
If you're printing out business cards, you don't just spend on paper and ink. Enormous paper production contributes to environmental issues, such as air pollution and waste problems due to deforestation. 
And since most consumers know these problems, they become more selective with the companies they associate with. If you continue distributing printed business cards, they won't accept them and see your brand as irresponsible regarding your environmental impact. 
With digital cards, there is no need to print anything out because it is an electronic file. Once you have it created, you can send it through email or post it on your website or social media accounts. This way, you can save on paper and ink while promoting your brand effectively. This, in turn, leaves a positive impression on your customers. 
Many consumers look for reviews about a brand and its products or services before buying from it. That's why many businesses use consumer testimonials to show they're trustworthy. This helps them establish brand integrity, encouraging the prospects to purchase from them.  
What better way to highlight testimonials than through digital business cards? With these cards, you may feature your customers' feedback about your brand. Consider putting a link at the bottom of the card so prospects can go read them as they view your contact information. Doing so supports your claim about your advertisements, inspiring them to contact you or add your offers to their carts. 
Quicker Engagement Monitoring 
When you give away physical copies of business cards, checking engagement rates is impossible. Even if you list all recipients, how will you know if they read it? If you can't, how will you know which ones are worth following up with? 
Digital cards solve this problem by allowing you to track who views your online information. And if they do, you can use these insights to contact them through email to follow up. For instance, consider sending them an invitation to an upcoming event if they've viewed your website. Or you can invite them for a product launch with a discount code to encourage them to attend. 
When you do this, you're growing your business in a more personal way than just handing out a physical card. In other words, you're establishing a personalized relationship with leads rather than just handing out a piece of paper with information. This way, increasing engagement is possible, which translates into more sales over time. 
Giving away physical business cards means that the recipients must carry them. They can either insert it in their wallets or pockets for future purposes. But some of them are likely to throw them away, especially if your cards are plain and don't add value to them.  
Digital cards, on the other hand, are convenient to use because they don't take up space. You can distribute the link through email or social media to anyone needing your contact information. Instead of carrying around paper-based cards, users can easily access your details through the comforts of their mobile devices. This means they can reach out whenever they have questions about your products or services. 
When you print out business cards, you must ensure the information is free from errors. If it isn't, and you only noticed the mistake after bulk-printing them, you'll have to print a new batch of cards. You also need to print a new batch when you need to update any information. 
But with digital cards, this isn't an issue. If you must update any information, you can do it in real time as often as you want. For instance, if you have a new business address, change the location, and you're ready. 
In other words, your stakeholders are constantly updated with your contact information regardless of the changes. This way, you won't miss out on any sales opportunities. 
Summing It Up 
Ultimately, digital cards are a great place to start if you want to grow your business. These cards are more versatile than paper ones because you can save on printing costs. Aside from that, there are no limits to editing details. This means any user interested in staying in touch with your company always views up-to-date information.  
Nevertheless, it doesn't mean you should ditch your paper cards altogether. You can still use the latter by adding a QR code to your digital cards and handing them out at conferences or networking events. By combining these efforts, you'll be able to reach more potential customers and boost your company's growth.