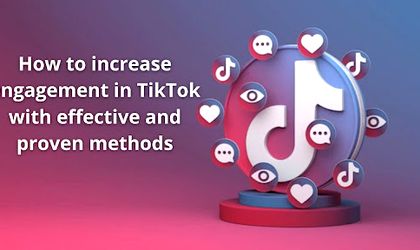 TikTok has become a kind of phenomenon among online platforms. Video sharing has risen. But brands, to be successful, will need to increase their engagement. Engagement on TikTok is the total number of metrics, such as comments, shares, and likes divided by followers. 
Research has shown that the engagement rate on the platform is 15%. Experts recommend that on TikTok you should have an engagement rate of approximately 18%, whereas, on other platforms, you might only get an engagement rate of 2%. So how can you improve your engagement? Look at some suggestions.
1. Give Yourself a Boost
The first thing that you need to do is to reach out to close contacts and get them to engage with you. There are friends, family, co-workers, suppliers, and others that you can speak to and ask them to engage with the content you post. 
Even a minimal engagement on your videos can make a significant difference. You might also want to talk to existing customers. Email can be an excellent way to notify contacts that you have new Tik Tok content out. Alternatively, you can buy for cheap TikTok followers for the UK Tik Tok creators and bloggers from other countries.
2. Reply to All Comments
Replying to comments made on your content is vital. It shows that you've got an active interest in your audience. It makes you more trustworthy and more of your audience will engage with your content. 
Part of this is that audiences don't want to feel left out. If you reply to your audience regularly, they want to be part of the conversation because it makes them feel more important.
3. Add Video Replies
Another factor is that people will see your reply where you specifically mention the person who has commented. This little aspect will add personalization to the content you're producing and will improve your engagement rates. 
It is also perfect for getting audiences to spend time watching your content. If you do it regularly enough, people will scroll through your content and comments to see what you said to them. 
4. Add Q&A Feature
Nearly two years ago, TikTok added a new feature known as the Q&A feature. This helpful addition to the system allowed creators to include a Q&A list to their accounts. It enables your audience to ask questions and the creator to reply with the answer in video format, much the same as replies work. 
The video reply appears on the TikTok page, just like a video reply to a comment. With this feature you can add relevant content, engage with audiences and improve the audience's trust of your brand.
5. Add More Content
TikTok creators frequently show that more content is never a bad thing on the platform. So creating more content is always an idea for creating more engagement. Sometimes people can create two or three videos per day. Videos do not have to be too long, instead they can actually be relatively short. But you do need to make sure that they have value.
6. Serialize your Content
If you follow the previous tip you will want to find out how to achieve the results. One idea is to serialize your content where a storyline continues over several videos. For example, provide a review of a book and break it down into three to five videos played throughout the day. 
This tactic allows you to create the same amount of content and expand the number of videos released. The advantage of serialization of your content is that it also plays into the algorithm. As soon as someone watches your video, the platform will remember that and show your content to them.
If they engage, you become more important to them. Therefore, you can extend your reach and get more regular audience members who interact with your vids more.
7. Be An Active Member of the Community
On TikTok, you should be an active member of the community. That means you should watch other content on the platform and engage with other content creators. This action creates an almost like-for-like as it expands the reach by showing your name across other channels. 
You can attract audiences who spend lots of time on the platform watching other creators. And because you are engaged too, it improves your trustworthiness.
8. Don't Forget CtA
One of the factors that a lot of creators forget is that audiences need directions. Some viewers will get what you probably want them to do, but others will need a big push to make the right decision. This is why you need to add call-to-actions to every piece of content that you publish. There are several locations to add a call-to-action. 
You should add a call to action at both the beginning and end of the video and in the text of the video description. If you need inspiration, look at how successful YouTubers have been, adding the call-to-action, which is generally a call for engagement, to their videos. And you don't need to necessarily do this in words. In theory, you could add animations as they do on YouTube.
9. Rule of 3 Seconds
Psychologists claim that the attention span of a user is reducing. Two decades ago, the average attention span was more than 10 seconds, and today, it is only 8 seconds. If this is true, then humans have a shorter attention span than goldfish. And this fact needs to be considered for your content. 
When watching your video, the first 3 seconds should be engaging enough to attract attention and retain it. There are numerous ways that you can grab that attention, and it will depend on your niche and audience on how you can grab that attention.
10. Storytelling
The best brands aren't just producing great quality videos, they're telling stories in their videos. These stories need to have several aspects to them to win. For one, they need to set up a challenge, they need to have a journey to face that challenge and they must have a conclusion. Stories are very emotive and bring in audiences.
11. Use Emotions
People want to feel emotionally attracted to your content. So use emotions to get more likes. These can include using fear, sadness, joy, happiness, and other emotions. And there are numerous ways that you can add emotions including through the words used, facial expressions, music, and more.
12. Host Live Events
Another factor is that you should look at hosting live events. This option is a way for you to create engagement points for your audience to do it live. And people love live events because anything can happen and these can be touching, human moments that make you more personable and will improve trust with audiences. 
After all, while TikTok engagements are a step, the ultimate goal is to make your TikTok videos into a monetized feature and you can only do that when you have a large audience that will trust you and what you have to say. And that is regardless of whether you're an influencer trying to earn commissions on affiliate products or a brand selling your latest service/product to audiences online.