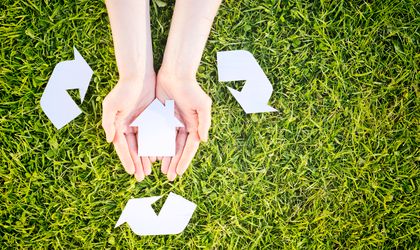 Waste management, clean water, forest protection and restoration, recycling, and the circular economy are among the most important topics in the European Union today, and they were all discussed at Business Review's recent Environmental & Sustainability Summit, which brought together representatives of the European Commission, Romanian authorities, and large companies.
By Aurel Constantin
The coronavirus crisis has shaken the world to its core and has tested healthcare and welfare systems as well as the entire society. But, as Marius Vascega, the European Commission's Head of Cabinet for Environment, Oceans and Fisheries, says, "we cannot lock ourselves into obsolete technologies and business models from the past." He pointed out that the EC was putting forward a two-fold response: the Next Generation EU, a EUR 750 billion recovery instrument from 2021 to 2024, and the long-term budget for 2021 – 2027, worth EUR 1.85 trillion.
In Romania, the environmental fund's budget for 2020 is the largest in history at RON 2.8 billion, as Mircea Fechet, State Secretary at the Ministry of Environment, Water and Forests pointed out at the Summit. "Romania joined the group of European Union states which have accepted the fact that the coronavirus pandemic should be a driver for the economic recovery of the Green Deal. "The fact that we have accepted this political decision at the government level and that ministers understood that it was very important to join these states is something that will help us a lot in the future," said Mircea Fechet. But the Green Deal is not and the recovery plans are not yet finalised. "The recovery plan has several loopholes that need to be remedied. For example, there is no approach to pollution with toxic substances, which is a major threat to our health. Also, the loss of biodiversity through habitat destruction is not mentioned, although it is listed as the main cause for new types of diseases," said Raul Pop, Program Manager at ECOTECA Association, a member of the European Environmental Bureau.
Steps in the right direction
Over the last 2 years, many companies have adopted sustainability as a business model. "There are certain measures that we take for a sustainable model that will reduce the negative impact on society," said Valer Hancas, Corporate Affairs & Communication Director at Kaufland Romania & Moldova. Last year, the retail chain introduced the measure of selling food bags instead of giving them out for free and decided to get rid of disposable bags. "The consumption per customer was about 80 bags per month and we hoped to reduce the number of disposable bags by 30 percent. The surprise was that 2 months after implementation, the use of disposable bags was down by 65 percent," said Hancas.
Unfortunately, the pandemic has forced some environmentally damaging measures to be taken. For example, retailer Cora said that, for health-safety reasons, they had to pack more fruits and vegetables than usual. "We wanted to sell more unpackaged fruits and vegetables, but for health-safety reasons, many goods must be packaged, so we ended up using more plastic," said Emanuel Parvulescu, Head of Environment at Cora.
"In Romania, we still don't have a system for efficient recycling, which could lead us to a circular economy," said environmental expert Ionut Georgescu. But as the crisis has given us a new perspective on life and we have realised that we can be just as happy while consuming less, it has also given us reasons to trust technology. "I believe that technology and digitalization can change this industry much faster than local authorities can. That is why, within the FWEI group, we focus on technology," said Ionut Georgescu.
He also announced a new educational project, called The Movement for Recycling, a project developed for social media and meant to convince as many people as possible to take action, to be responsible, and to change their perception of selective waste collection.