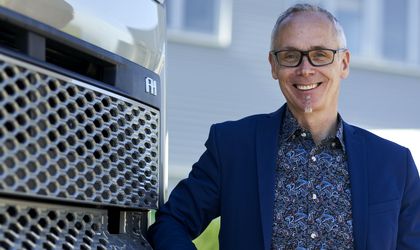 As climate change and its large-scale negative effects are no longer just presumptions but a reality we are all facing on a daily basis, every member of society, including those in the business environment, must behave and do business in a more sustainable way. Business Review talked to representatives of large companies in Romania and highlighted several solutions that can ensure a greener and safer future for the coming generations. Implementing sustainable urban development, water management, and farming, supporting businesses with green finance, and finding ways to lower carbon emissions in all our activities are among the actions that could be part of the solution.
Per Forsberg, Managing Director, Volvo Trucks Romania: "Babies that are born this year will, during their lifetime, experience a completely different world of mobility compared to what we have today. Most cars, buses and trucks – and modes of transport we haven't even thought of yet – will be quiet and electric, emitting zero exhaust emissions.
This is not a vision; it is an absolute necessity. The world's scientists are clearly in agreement: If we are to have any hope of preventing the most catastrophic effects of global warming, we must begin now to make the huge transformation needed to decarbonize our way of living.
Road freight today accounts for about seven percent of the world's CO2 emissions, and around half of this comes from heavy truck transports, our business. As one of the world's largest truck manufacturers, we are clearly part of the problem. But we are also fully determined to be part of the solution.
Biggest challenge in our 93-year history
We are now gearing up to face the biggest challenge – by far – that we have confronted since our first truck rolled out of the factory in Gothenburg, Sweden, in 1928. Our immediate aim is that by 2030, just over 8 years away, at least 50% of all trucks that we sell will be electric. And by 2040 – at the very latest – we will have decarbonized our entire truck range.
This is an enormous challenge, mainly due to the nature of truck transports. Unlike passenger cars, truck transport is a business that must generate profit for the transport company. To do this, our trucks must carry heavy loads over long routes – all year around. Thus, maximum load capacity must be combined with maximum driving range, to achieve the required profitability.
It is therefore obvious that electrifying heavy duty trucks is a far bigger challenge than electrifying passenger cars, which are much lighter vehicles and on average stand still 95% of the time. Nevertheless, we are fully committed to conquering these obstacles.
Transport companies are pushing for fossil-free
With a running truck population of over one million Volvo trucks, we are in daily contact with transport companies in basically every corner of the world. This provides us with unique insight into what it will take to successfully achieve such massive decarbonization globally.
And what we are seeing is this: Many transport companies, and transport buyers, are actively pushing for fossil-free transports. But there are major obstacles to be overcome.
Production of electric heavy duty trucks since 2019
Firstly, to make this happen, we as a truck manufacturer have to do our fair share and make sure our electric trucks are available in all countries around the world. Newcomers to this industry have recently made some high-profile and welcomed announcements, speeding up developments with their pilots and tests of heavy-duty electric trucks.
However, much less publicized is the fact that Volvo Trucks is beyond testing and piloting; we started production of fully electric trucks already in 2019 and now offer the world's widest range of heavy duty electric trucks.
Another little known fact is that a large proportion of heavy goods trucks travel less than 300 km a day. In Europe for example, such relatively short distance transports under 300 km account for almost 50% of the total goods transported. This basically means that goods transports in many cases could be done with battery-electric trucks that are for sale already today.
So, you may ask, what is stopping transport companies from going electric? Mainly two things: 1. The need to improve the total cost of ownership and 2. The need for adequate charging infrastructure.
Incentives necessary to kick-start electric trucking
Battery-electric vehicles are currently more expensive than diesel due mainly to the batteries. And even if the cost of batteries is decreasing at a faster rate than most analysts previously were expecting, they are still very expensive and can make up one-third of the total cost of an electric truck.
In this initial phase of truck transport e-mobility, governments, authorities and other policy makers need to speed up their actions to kick-start electric trucking – and make the transition as easy and viable as possible.
Specifically, they need to provide effective incentives and catalysts that will:
Lower the economic barriers for initial purchases of electric trucks
Reduce, or even eliminate, road and energy taxes for such trucks
Intelligently encourage private infrastructure investments in charging stations in strategic locations.
Charging stations are the key to success
A massive ramp up of the truck charging infrastructure is needed in all parts of the world. Heavy-duty battery-electric vehicles simply cannot use the same infrastructure as passenger cars – because of their space, parking and access requirements.
Major public investment in charging stations is the key, and it must be done in the right way:
Support public and private charging points.
Support charging stations not only at the truck's home depot, but also in locations where trucks are already stopping, such as logistics centers, port terminals and rest areas.
Do not spread charging too thin! It is better to establish a viable ecosystem in a few places than to try to put a charger in every corner of a country or continent.
Start smart, by building strategically-located charging stations.
A call to action for true leaders
We at Volvo Trucks are both determined and proud to do our part to drive this development towards a society based on fossil-free transports. However, to succeed with this gigantic transformation, and to gain all the environmental benefits it offers, private companies and policy makers must work hand in hand to overcome the obstacles hindering transport companies from going electric already today.
We firmly believe that the points outlined above provide a clear roadmap for visionary leaders to successfully start the electric journey to a brighter future, for all generations to benefit from – including this year's babies."