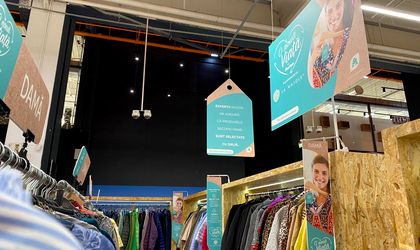 Continuing its mission to encourage a responsible lifestyle, Auchan Romania becomes the first local retailer to implement a comprehensive social responsibility project focused on the circular economy of clothing, a project already taking place in Western countries. Thus, in addition to the clothing collections already present in Auchan hypermarkets, the retailer begins to also integrate in its offer pre-owned clothes, in perfect sale condition, through partnerships with specialized stores.
The program "A new life by Auchan" starts this month with a pilot stage implemented in the Auchan Cluj Nord  hypermarket, where there will be sold worn clothes, from famous brands, at affordable prices, through a unique partnership with the LaMajole fashion stores chain, from Cluj.
Thus, LaMajole occupies an area of ​​60 square meters inside the hypermarket, offering customers a wide range of clothing for women, men and children, the prices of clothing ranging between 12-350 lei. All the pieces sold are collected, carefully selected and sanitized according to the standards in force, by the LaMajole team.
"The textile industry is responsible for 10% of greenhouse gas pollution and only 1% of textiles are globally recycled. This project is based on the three principles of the circular economy – the reduction, reuse and recycling of clothing, representing an important step in continuing our actions to reduce the footprint we leave on the environment by extending the period of use of products. Through the "A new life" project, we support responsible clothing consumption and encourage customers to contribute to a more sustainable future by purchasing clothes that have already been worn ", said Corina Dospinoiu, Head of CSR Auchan Retail Romania.
" The initiative started by Auchan is a premiere for the Romanian retail market and we are happy to carry out this project together. LaMajole is the result of a pro-environmental attitude, behind our stores there is a whole industry that recycles and reuses, as much as possible, all the products that reach us.", said Szekely Zsuzsanna, LaMajole Executive Director.
According to Auchan, the company's intentions are to expand this program to the rest of the hypermarkets in the country, thus complementing the already existing actions to reduce textile pollution.