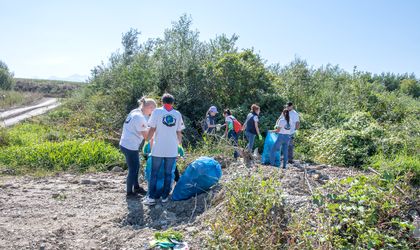 DS Smith, the sustainable packaging leader, responded to Association for Education and Nature Conservation – Râșnov` initiative and joined the waste collection actions, which took place on 11th and 18th of September, in Lunca Bârsei, Natura 2000 site. Thus, 50 employees from DS Smith mills in Zărnești and Ghimbav, together with their families, participated as volunteers in the project and contributed to the collection of 1,4 tons of plastic waste and 2 tons of construction materials. Also, National Agency of Natural Protected Areas joined the action. The initiative was carried out in compliance with the protective measures against Covid-19.
The action is part of the "World Cleanup Day 2021" – the largest worldwide cleanup event of the year uniting millions of volunteers from 180 countries to help clean up the planet by taking part in activities in local communities around the globe. To support World Cleanup Day, 286 employees from 30 DS Smith plants in 16 countries in Europe, USA and Asia participated in local litter picks between September 1 and 18, 2021.
The initiative is part of DS Smith's commitment to supporting local community development through key initiatives focused on several strategic directions, such as education, biodiversity, health and support of vulnerable groups.
Diana Ciuraru, Human Resources Director at DS Smith Zărnești states: "We all have a responsibility to make our world better and together, by joining forces, we can protect our environment. The waste collection action, initiated by Association for Education and Nature Conservation – Râșnov, aligns perfectly with the values of DS Smith, protecting life, the community and the biodiversity being ones of our major goals. DS Smith employees once again showed interest and commitment to the good of the environment and said yes to this action. I warmly thank all my colleagues who were actively involved, together we managed to collect over 3,4 tons of waste!"
DS Smith is continuously committed to the well-being of the community, and this new project reaffirms this promise made by the company. Over the past year, DS Smith has been involved in a number of initiatives to support the local community in Zărneși, Brașov County. At the beginning of spring, the company launched a drawing contest in the schools in Zărnești – the students from primary education were encouraged to express their concern for the environment, with the help of creativity. Also in the spring, the company sponsored with the amount of 1,000 EUR the Dr. C. T. Sparchez Zărnești Hospital for the purchase of an electric elevator meant to facilitate the access of patients with motor difficulties for the Internal Medicine department.
Another initiative involved 50 employees who mobilized and joined forces for a tree planting action in the yard of the mill in Zărnești, under the coordination of a local NGO. Other recent initiatives have focused on health and supporting vulnerable members of the community. Also, DS Smith Zărnești provided financial support to a local high school, which organized donations of food packages and other essential products for the benefit of 20 families without possibilities, but also of institutionalized children.
DS Smith Zărnești is the largest paper manufacturer in Romania, accounting for almost half of the domestic demand.
DS Smith's operations in Romania comprises of a recycling head office in Bucharest, two recycling depots in Otopeni and Cluj Napoca, a paper mill in Zărnești, two packaging production units in Ghimbav and Timișoara and three service centers in Pitești, Timișoara and Otopeni, employing in total over 650 people.