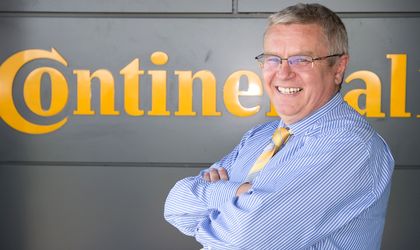 Business Review sat down with Oswald Kolb, Manager at Continental Sibiu, to talk about the company's involvement in the local community and how important its social projects are in the context of the pandemic.
By Anda Sebesi
How do you think the concept of solidarity is reflected by the actions taken by companies in Romania to help society cope with the pandemic?
Based on my observations, I think there have been very good reactions from all the big companies in Romania. Companies and their employees are highly engaged and are closed to several courses. This is also Continental's case at national and locations level. Continental Sibiu is involved as well in large number of employees. I am thinking here of the free internet provided on buses or the scholarships for vocational or dual school students with more than 100 pupils, university sponsorships, and also recent projects in these pandemic times.
What can you tell us about Continental Sibiu's initiatives in this regard?
Two public vaccination centres were opened on April 23rd by the initiative & with the support of Continental in Sibiu and Timisoara. The public vaccination centre in Sibiu, located directly into the company's yard, was established and arranged by Continental in collaboration with the Regina Maria Private Health Network and the local authorities. The total area of the vaccination centre is 134 sqm, consisting of 9 containers (7 offices and 2 medical areas), the staff and administration belong to Regina Maria, while our employees as well as the other citizens can get the vaccine in this centre after following the registration process of the national vaccination platform.
What about other projects through which Continental Sibiu supports its employees and the local community?
As the most desirable employer in the region, it is natural for us to get involved in the local community, and we will continue to do so. Continental Sibiu has been part of the community for almost 16 years and it is our duty to get involved when the community needs it. Since the pandemic began, we have made several donations in the form of money and equipment. Our latest donation was to the Sibiu Ambulance service – an automatic cardiopulmonary resuscitation system that provides high-quality, automatic CPR to victims of sudden cardiac arrest. Being there for each another is the key to beating the crisis in our community.
We are responsible for about 4,000 employees and their families. Protecting the health and safety of our employees is crucial for us, with considerable impact in the local community. In Continental Sibiu we implemented plenty of preventive measures and actions for the employees: providing two masks per day to each employee and carrying out daily disinfection in buses, restrooms, and offices, doubled the company's bus fleet in order to reduce the number of employees traveling on a single bus. The feeling of belonging to a community, trust, and determination have led to some noteworthy results, such as the establishment of a COVID-19 Testing Centre for Continental employees and their families at the beginning of the pandemic, where around 1,200 rapid tests and over 800 PCRs have been performed to date. We've had no major outbreak, and public health authorities have not forced us to halt our operations, which would have had a huge financial impact.
This March, Continental also managed to implement a project that had been on our wishlist for some time: inaugurating a Regina Maria Polyclinic on-site. Regina Maria covered most of the investment cost, which comprises medical offices for more than ten specialties, with state-of-the-art equipment, a welcoming reception area, a large waiting room, and a friendly medical team. This way, our employees and their families have access to a wider range of medical services.