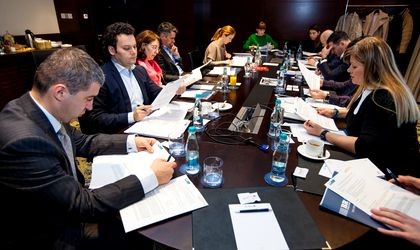 Business Review Awards, the annual event gala that aims to recognize the outstanding achievements of the business community throughout the past year, is close to the finish line, having announced a shortlist of these year's nominees.
The independent jury, formed of representatives of the Romanian business elite, evaluated the companies and leaders that excelled in their area of business in the past year, according to the competition's twelve categories: Community Involvement, Online Strategy for Business Development, Innovation in Technology, Best Start-Up Supporter, Best Turnaround Strategy, Best Employment Initiative, Young Entrepreneur of the Year, Deal of the Year, Business Leader of the Year, Excellence in Business, Best SMEs Financing Line Program and Best International Expansion.
The jury members are:
– Fady Chreih, CEO, Regina Maria
– Cornel Marian, Managing Director, Oresa
– Razvan Iorgu, CEO, CBRE
– Peter Barta, CEO, Post Privatization Foundation
– Sergiu Negut, Associated Dean, Maastricht School of Management
– Omer Tetik, CEO, Banca Transilvania
– Silviu Stoica, Partner, Popovici Nitu Stoica si Asociatii
– Carmen Peli, Partner Peli Filip
– Florin Godean, Country Manager, Adecco Romania
– Kostas Loukas, Country Manager, Microsoft Romania
– Anamaria Mihaescu, Regional Manager, IFC
– Hortensia Nastase, Vice-president, Lowe Group
The results of the judging process will be announced in the presence of over 200 top business community members at the awards gala taking place on February 23rd at the Radisson Blu Hotel in Bucharest. In the meantime, the shortlist can be consulted on the dedicated event page. More information about the event and registration opportunities can be found here.