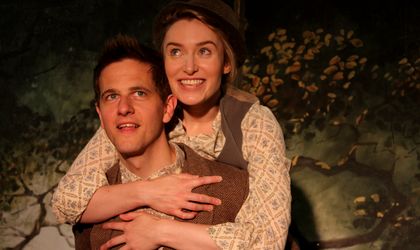 As part of a summer European tour, Shakespeare's Globe Theatre will bring to Bucharest its version of As You Like It, a production staged in the Elizabethan theatre tradition, as it was performed in Shakespeare's times.
On an open-air stage erected at George Enescu Plaza, the Globe's troupe of eight actors will perform the pastoral comedy set in the forest of Arden using very few props, just a backdrop inspired by Renaissance paintings, lots of music, gentle satire, brilliant dialog, cross-dressing and, last but not least, lots of dramatic passion.
Rosalind, the daughter of a banished duke, falls in love with Orlando at a wrestling match, but her usurping uncle, jealous of her popularity, banishes her from court. Disguised as a boy she seeks out her father and his friends in the Forest of Arden. Here she meets Orlando again and, disguised as a young man, counsels him in the art of love.
The two performances in Bucharest are presented by the Bucharest Centre for Cultural Programs, ArCub, in partnership with Shakespeare International Festival, Shakespeare Foundation, Craiova National Theatre and the British Council.
Director: James Dacre
Starring: Tobias Beer, Deirdre Mullins, Will Featherstone, Will Mannering, John O'Mahony, Beth Park, Will Oxborrow, Emma Pallant Heredia, Peter Stormare
On at: July 11, 12, at 19:30, George Enescu Plaza (in front of the Hilton Hotel), free entrance until full
Anca Ionita