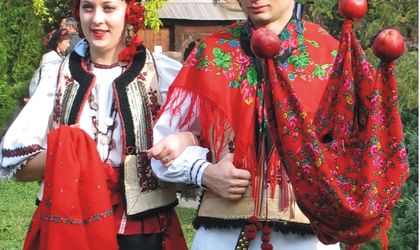 For this edition of the Venice Carnival, set to take place between February 2-14, Romania will present the exhibition "Romania: Ceremonial folk costumes and masks", according to the Romanian Cultural Institute in Venice. The event will take place at the Scuola Grande di San Teodoro in Venice. The theme of this year's Carnival of Venice is "Vivi in colori" (Live in color).
The exhibition is part of this year's theme of the carnival and the accessories used as decorations in folk costumes represent "ceremonial marks", expressing events that a person took part in. "The bride's wreath," "the godfather's towel," "the village chief's axe," "the guest's hammer," "the wanderers' markings" (hat decorations), "the Calusari's hats" (for a traditional popular dance) are exposed for the tourists who come at the carnival.
At the same time, the National Village Museum "Dimitrie Gusti" will exhibit Romanian folk art at the New Gallery (Cannaregio 2215) of the Romanian Institute of Culture and Humanities Research in Venice. Pieces of textile art (rugs and pieces of traditional clothing) will be on display, while Romanian artist Paul Buta will demonstrate how Romanian folk masks are created.
Oana Vasiliu