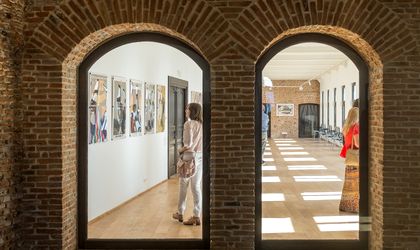 Six years after the first steps in the reconstruction of the Gabroveni Inn, the inauguration date has arrived. Over September 19-21, the public is invited to the inn's public spaces to see the results. The new-look building was conceived as a multifunctional cultural center, hosting a theater, the visual arts, professional training, administration, and cultural and tourist information.
Oana Vasiliu
Once upon a time…
Gabroveni Inn was first mentioned in an 1818 document by Dionisie Fotino and then again in 1822, by L. Kreuchely, Prussia's agent in Bucharest. According to the latter, at that time there were seven large inns without a church in the city: Filipescu, Golescu, Manuc, Papazoglu, Constantin Voda, Zamfir, and Gabroveni.
Although significantly smaller in size than similar edifices, Gabroveni Inn lived its glory days over 1825-1850, mainly due to its proximity to the shopping area of Lipscani. In 1824, it was already listed among Bucharest's most important inns.
Along with a change to the street numbering in 1887, a series of modernization works took place, coordinated by architect I.I. Rosnoveanu, and Gabroveni Hotel became Gabroveni-Universal Hotel. In 1911, Ruse Rusescu owned the edifice. The damage incurred after 1967, when the first process of preservation began, worsened after 1990, all of which made the old building, which had a structure similar to that of Hanul cu Tei (the Linden Inn) a real danger to passers-by. The edifice became a shelter for homeless people and suffered numerous fires, which led to its almost complete destruction.
The cost of the facelift
By the end of 2006, the Gabroveni Inn was included on the List of Historical Monuments and put under the administration of ArCuB, Bucharest's cultural center. From 2008, the reconstruction, extension and restyling of the site was part of a project financed by the Financial Mechanism in the European Economy Area, implemented by the Romanian Ministry of Cultural and National Patrimony and by the Bucharest City Hall, with a budget of EUR 5.2 million, although the official costs were EUR 4.2 million.
The rehabilitation and extension of the inn included several stages: the preservation, consolidation and reconstruction of the building and its trade passage, followed by the extension of the existing edifice with a new wing on a vacant piece of land nearby. Theproject also included a special approach to the masonry, part of which was replaced brick by brick and, where possible, repaired by refilling each brick with concrete insertions.
The story is told in The Story of the Inn – Cultural Center ArCuB, a bilingual book that will be available in Romanian and English to mark the opening of the building.