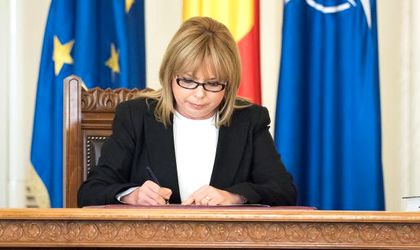 Anca Dragu, Romanian Minister of Public Finances, reiterated Romania's commitment to implementing the necessary measures indicated by the European Commission in its country report, during the meeting of the ECOFIN Council in Brussels, according to a press release from the Ministry.
The Minister appreciated the fact that the country report underlines the significant economic growth undergone by Romania and its stable economic framework. "In the next period, we will focus on accelerating investments and structural reforms, priorities acknowledged in the country report as well. We have put forward the law package regarding public acquisitions, we've started the process of prioritizing investments and realizing the legislative and operational framework for implementing some projects through public-private partnership," stated Dragu.
During the visit to Brussels, Dragu had meetings with Jyrki Katainen, vice-president of the European Commission, and Pierre Moscovici, European commissioner. Dragu presented to them the state of reforms and the budgetary data for 2015 and the first month of 2016.
She further stated that she is expecting positive results for February too, with a growth in tax collection.
Andreea Tint