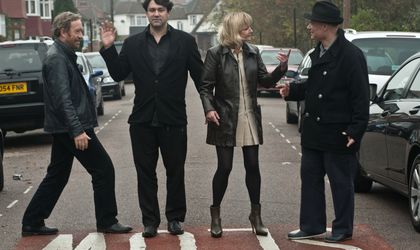 A program of gypsy and traditional Romanian songs given unique treatment by the Balanescu Quartet with the inimitable Sanda Weigl will be staged in Bucharest at ArCub, between June 11-12. Over 25 years, the Balanescu Quartet has acquired a reputation as one of the world's leading contemporary music ensembles. The Romanian violinist and composer Alexander Balanescu has led the quartet across musical frontiers into new territories, its performances showcasing intercommunication and fluidity between different musical fields.
The other half of the concert belongs to Romanian-born singing sensation Sanda Weigl, who blends gypsy music, cabaret and jazz, reflecting her own life story in every moment of her performance.
An extraordinary life doesn't necessarily lead a musician to create extraordinary music, but Sanda Weigl's journey through the roiling cauldron of the 20th century has resulted in a gripping, drama-drenched sound steeped in ancient tradition yet bracingly contemporary. Weigl's personal history includes teenage rock stardom in East Germany as a member of the band Team Four. Later labeled an "enemy of the state", Weigl was expelled to West Germany for protesting against the government. She immigrated to New York in 1992 with the encouragement of director Robert Wilson, with whom she had worked at the Schiller Theatre. In New York, Weigl reunited with childhood friend, violinist Alexander Balanescu; their Gypsy collaboration has gained an impressive reputation among the avant-garde cognoscenti through concerts with the Balanescu String Quartet in various locations.
Tickets are available online at www.bilete.arcub.ro or from the box office at prices from RON 60-80. The concert takes place at ArCub (14 Batistei Street), on June 11-12, starting hour 20.00.
Oana Vasiliu