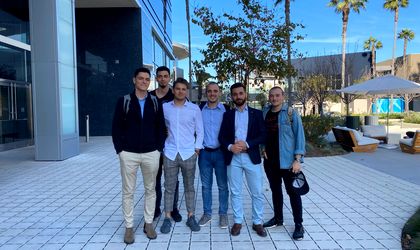 "A long email for a long day." Dan Condurateanu starts his correspondence warning us it's going to be a long read. Day 8 of the #RoStartupOdyssey was indeed a busy one, not unlike the previous one, but the six Romanian entrepreneurs had many lessons in store, probably the most they got in a single day since their arrival in the US.
The first meeting, a blockchain event at Pepperdine University, a private research university in Malibu.
"Pepperdine University is one of the most luxurious universities I've ever seen." Catalin Petrisor shares his first impression about the Malibu institution.
But it wasn't any regular event, as Iulian Puiu and Octavian Sicoe tell us, it was a high-class lunch attended by some of the most influential people in the blockchain world, from entrepreneurs to traders or lobbyists. Or as Dan colorfully puts it, "a blockchain event with old and important people."
"I learned what blockchain is because one of the speakers explained it by making a parallel with the distribution chain of coffee." Catalin Petrisor found a relatable parallel to help him understand the concept of blockchain. "I learned that blockchain can be used in domains like health and education and it would have a big impact on everyone's life. Or 'decentralized trust' that's how another speaker described blockhain."
"I have a deeper understanding of the usage of blockchain technology now. I heard about many significant problems at the global level that could be solved with this technology. Some of them are the fact that governments can't share information because they have all data in a single place or that 90% of the money donated to most charity won't support the cause for which you donated." Iulian adds what he took with him from the event, while Dan was really amazed by some numbers. "Data safety breaches make hackers around USD 400 million each year. That's huge." He says.
Octavian, very fond of bulleted lists was very clear about what he learned from the event:
Surround yourself with people like those you want to become. It was a pleasant feeling to be around that kind of persons. Their success and the way they act was really contagious.
Blockchain will enable tracking everything such as the supply chain of each product, green energy usage, or even the track record of each person.
Blockchain will enable more data-driven business decisions. (With real-time data)
Blockchain can be used to secure personal records in state departments or in the healthcare industry.
Blockchain can connect the farmer on the pepper vines from the edge of the world with the rest of the world. And it will add value to his work. So in this way, he won't be forced to leave his farm for a job in the city.
The concept of distributed trust created by the blockchain will make any higher authority institution irrelevant.
The event ended around 2:30 PM, but the guys didn't had time to waste. They had a 4 PM appointment across the city where they would meet one of the most interesting entrepreneurs they had come ran into since coming to the US. Anthony Gonzales, a former American Football player turned startup entrepreneur. He is the Chief Executive and Co-Founder of Force Impact Technologies, a startup that produces smart the FITGuard, a smart mouth guard for athletes in full contact sports such as American Football, boxing, or other martial arts. The device sends data to an app, tracking how hard a knock or a punch was, enabling coaches, medical teams, league officials, or insurance providers a clear view of an athlete's condition.
"They put an electric circuit wearable in a mouth guard with a linear accelerometer and an angular gyroscope to measure the skull movement caused by force. Knowing that Force equals mass*acceleration they know the force and the Impulse, which equals Force* deltaT (elapsed time), on your head. They don't measure vibrations as I first thought, they just collect as much data as they can and try to correlate it with head concussions. Then they teach a machine to warn the user when they record a hit that caused an issue before." Dan tells us how FITGuard works.
"Our next meeting was with Anthony Gonzalez. Former sportsman, with a degree in supply management. He is now an entrepreneur and works for his own startup for around 7 years. He is doing smart mouth guards that can track the intensity of each hit and thus prevent any fatal injuries." Adds Octavian, who also very graciously made a list of the most important lessons he got from Anthony:
He partnered with his competitors. That's very smart!
Master the art of being shameless. He developed cold calling as a skill and mastered it.
Crowdfunding is an instant gratification platform. "I want that now."
When you manage expectations it can take longer. He has an app that tracks the whole journey of his product.
When you want good employees you have to pay them. That was one of his mistakes. He needed highly skilled employees and he didn't budget their salaries properly.
You have to understand what people want and don't want.
You have to develop a personal relationship with your suppliers or investors. For example, he sends birthday postcards, Christmas postcards and so on to everyone he works with.
"Yesterday was amazing. I really enjoyed the meeting that we had with Anthony Gonzales from FITGuard. If this guy could raise 12 million dollars in funding, we at Flip can do way more. He is not the perfect guy, but his main assets are persuasion and gaining people's trust. I was surprised that he got rounds after rounds of financing without having a co-founder, a team or even customers." Alex Burghelia says about the meeting. He continues: "Business investment is different in the States. There are many investors with more resources than those in Romania. Here, you can do nothing with 120,000 dollars, the sum we raised in our first round at Flip. That's just the salary of 1 skilled person here. Anthony's burn rate is around 200,000 dollars per month. When he ran out of cash, he did a bridge round of financing. Most of his money went on R&D and product development iterations. In Romania, I don't think this would be possible. We have to raise the bar at Flip. Investors should come with more money, as we got lots of traction, brand reputation, and a great team." Alex concludes.
Dan Condurateanu also has a lot to say about the meeting with Anthony. "Make friends not enemies and pass the responsibility down the supply chain. Anthony partnered up with an Australian mouth guard brand to make his products. He sends them the circuits, they do the rest. He is not a mouth guard producer so he is not focusing on that. Another smart thing he did was raising money from a supplier of his telling him that he is investing in a customer of his and if he does well, not only his shares will be worth more, but he will also be able to buy more from him. This combined with other persuasion techniques and inside information of the supplier's cash flow got him the saving 1 million dollar round to get his working prototype."
"Anthony inspired me as an entrepreneur because he was really optimistic and he has really big dreams. He sees himself selling the company to Under Armour or even Nike." Says Catalin, who is also always on the lookout for anything related to the business he wants to start back home in Romania, specialty coffee.
"I saw a very expensive espresso machine that is only used in coffee shops, but only in a very few of them because it's so costly. I also saw that they had multiple accessories for brewing the coffee, accessories that are usually used in specialty coffee shops because you need some skill to use them. My conclusion this evening was that specialty coffee here is something only for wealthier people. By roaming the streets of Los Angeles, I also saw that the majority of these coffee shops are in more upscale areas. Also, specialty coffee here is almost double the price of Starbucks. In Romania, it's totally opposite: Starbucks is more expensive than most specialty coffee shops. I will try to find out more about it tomorrow." Catalin leaves us with cliffhanger.