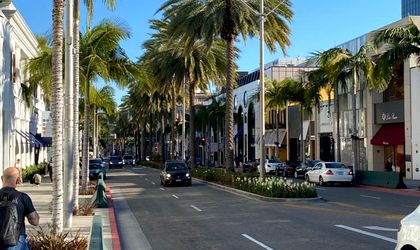 The #RoStartupOdyssey continues with the story of the seventh day of our young and ambitious Romanian entrepreneurs on their learning journey through the US. In yesterday's episode, they traveled to Beverly Hills to meet a self-made Romanian-American millionaire. Today they will be returning to the upscale city of L.A. County, where they will meet with two more Romanian entrepreneurs who made it in America.
"Today we met two Romanian entrepreneurs based here in LA. One of them has a franchise of tint-on-demand windows for offices and houses and the other one has a pretty big marketing and branding company. It was nice meeting them because they were full of energy, full of enthusiasm to meet us and I extracted a lot of value from each of them." Catalin Petrisor starts the story of day 7.
His main lessons:
Research the domain you are interested in, especially if you want to partnership with someone that brings money to the table. You have to show him that you really know and understand what you're getting into;
Offer more than expected to your employees in order to motivate them;
Master your persuasion skills because you never know when you need them;
The way you sell something is more important than the product itself: you can sell almost anything if you wrap it in a nice story;
Master your PowerPoint and presentation skills.
The first meeting was with George Kenny, a 35-year-old entrepreneur who owns a SmartGlass.com franchise, selling electronically tintable glass (the so-called "smart glass") on Amazon.
"Selling on Amazon might still be an opportunity even if the market is very crowded. Amazon will soon enter new markets, and they have a department that helps sellers to list on those markets. George is the second person to tell us that the systems here are working better than in Romania. And it is the reason for which the US is successful. For example, if you have over 2 million dollars in revenue, you can take credit without guarantees." Says Iulian Puiu about the first meeting of the day.
"Be agile and do stuff, no matter how hard it is. That's how I would sum up the meeting with George." Adds Alex Burghelia.
"The most important learning that I got from him is getting outside of the comfort zone. He started as a personal driver, but he wanted more and now he is an entrepreneur owning a glass production franchise." Concludes Octavian Sicoe.
The second meeting was with Brandusa George, or Brenda like she is called in L.A.  She started out as a copywriter and now runs a quite large marketing and branding company.
"Brandusa is indeed an important entrepreneur. She started out as a copywriter, then she did creative campaigns, then she had to sell them and learned about the numbers. Now she does branding in Beverly Hills." Dan Condurateanu says. He also lists some of the lessons he got from Brandusa:
A nice word with a smile goes far,
A nice word with a smile and a gun goes even further
How do I sell my idea is more important than the idea itself
We need to put numbers on creative work in business, there is no such thing as only art here. Selling and numbers are mandatory everywhere.
"Brenda was the one that really enlightened me. Not only that she was in the branding domain, but her energy, her desire to continuously grow, and to be relevant, and most important her desire to work, that is what inspired me." Adds Octavian. His lessons from the meeting:
What differentiated her from the others at a young age was thinking further and deeper than the others.
The deeper you go to understand the client or the market, the more enlightened you become.
Never take no for an answer – find creative solutions to overcome difficulties.
Everything in branding is abstract it makes sense for the consumer once you make it visual.
The thinking process should be organized – use tools to do so.
The creative process must be relevant for the final consumer – always be anchored in your customer's reality.
Branding is not only about a logo and colors – it is about strategy.
78 cents out of a dollar spent in Beverly Hills are Asian money.
Unicity and consciousness as future trends.
The most current and important change in the domain is the digital transformation. Due to this change data became of utmost importance and the way you procure, interpret and use data will influence you a lot.
The goal is to outsmart your competition, not to outspend them.
After the meetings, the guys went to a coffee shop, a familiar place for Catalin, as he works in one back in Bucharest, and also dreams about starting his own subscription-based specialty coffee business. Liking the concept behind this L.A. coffee shop, he confidently asked for a meeting with the owner, and to his surprise he got it.
"I met someone who was in charge of a coffee shop here in LA and I talked to him about the business I want to do: selling coffee on subscription. He gave some really cool ideas and tips. By visiting a few coffee shops, I already got a lot of ideas to implement in the new coffee shop in Romania." Says Catalin, envisioning already the future business he plans to start back home.