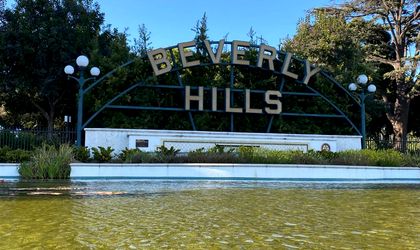 Monday was day 6 in the US for the young Romanian entrepreneurs on their learning Odyssey in the Land of Opportunity. A new week means new opportunities and the day had just one, but very interesting entry on the daily schedule. A meeting with Paul Mantea, a Romanian-born entrepreneur who emigrated in the US in 1996 and became a millionaire.
The morning started with some well thought planning for the new week. "Good planning can take you a long way," as Dan Condurateanu puts it. A trip to San Diego for a business event and a visit at a renowned tech school, are just a couple of this week's highlights, Cosmin Scripcariu gave us a little teaser for the upcoming episodes.
"There are so many opportunities around us. We have to plan ahead and do research to find them. A good habit would be to research the market for one hour every morning." Iulian Puiu expresses the importance of planning and research.
But it was soon time for the meeting with Paul Mantea, so our guys packed their laptops and left for the exclusivist Beverly Hills, where the Romanian millionaire lives. Even though they knew they were in for an interesting meeting, the lessons they got from Paul Mantea exceeded their expectations.
A former handball player at Steaua Bucharest, Mantea left Romania for the US in 1996 to work on a cruise ship. After gathering up some money, he didn't hesitate and entered the business world. Today, more than 20 years later, he owns Paul Mitchell Schools, a hair-styling schools network, owns Demidoff Organic Vodka, a brand that provides the liquor at the Oscars, is the founder and CEO of Thunder Truck and GreenT Battery Solutions, two companies that offer EV solutions, just to name a few of his enterprises. He also tried his hand in Hollywood, as a film producer.
"Paul Mantea surprised me from every point of view. He is running a lot of businesses in various domains such as pharma, EV batteries, vocational schools, car dealerships, and many others." Catalin Petrisor sums up the meeting. He took 4 main points from Mantea:
Systems are everything
"He considers that the US is ahead of everyone because it has very good systems. Everything is clear and if you understand the system, you can use it to your advantage. He recommended us to look at the big companies and understand the systems behind them."
A business is like LEGO
"You have to understand what you want to build and then look for the pieces that you need for the construction. The pieces can be people/connections/skills or anything you else need. You need to plan everything beforehand! "
The importance of networking
"He said that people here go to parties more for networking and less for having fun. He said that it's important to make connections with people because you never know when you need them or when they need you."
Patience is a virtue
"He recommended us to have patience because we can't jump over normal stages. He said that he built everything in time and not from the beginning and that he has succeeded thanks to the people he met over the years. Also, he considers himself very lucky, he considers that without luck he wouldn't have built anything."
For Alex Burghelia, the day was also very insightful. His main lesson from Paul Mantea: "Reputation, hard work, a great team and a resourceful network are key ingredients for success in business."
"Paul Mantea is a cool Romanian entrepreneur based in Los Angeles He was good at making friends and selling things. That's how he created a lot of partnerships to make his businesses work. He convinced some very smart guys to join him. Plan ahead your business like a LEGO construction, then go after the pieces. Those things stuck with me." Dan Condurateanu adds.
Cosmin Scripcariu also found the meeting very interesting, drawing some good life lessons and inspiration from Paul Mantea.
"He is a true Los Angeles businessman. He moved here almost 30 years ago and went through a lot of setbacks in his early years in America, but he always persevered and tried to overcome each obstacle. Through his proactive lifestyle, he managed to stay close to successful entrepreneurs and earn their trust, then he transformed these relationships into successful business partnerships. He got the money to start his first business through a billionaire who gave him a recommendation letter for a bank that agreed to finance him." Cosmin says.
After the meeting with Paul Mantea, the six Romanians were invited to a networking event.
"In America, they like to connect a lot with people. Everybody was comfortable speaking with others. Unluckily, I couldn't interact with many people because we were tired and decided to leave early." Alex says about the event.
"We had a networking event where I did not bring enough business cards. I need to make sure I take enough when I leave the house. Otherwise, a nice event, but we left early." Dan concludes.