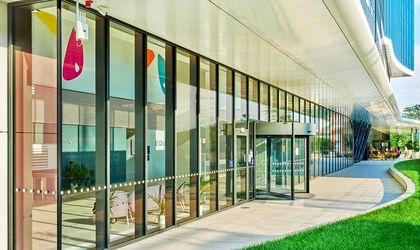 In August 2023, the Equilibrium 2 office building was granted the Access4you Silver certification. This rating is a recognition of the fact that the project developed by Skanska meets the accessibility needs of wheelchair users, the elderly, individuals with specific mobility requirements, people with strollers, visually impaired, hard of hearing and people with cognitive impairments.
Access4you is an international certification that assesses the built environment and provides detailed and reliable accessibility information about the audited buildings, to people living with mobility, vision, hearing and cognitive disabilities.
For 12 years now in Romania, Skanska has been creating spaces with a positive impact on communities, seamlessly integrated into the local environment, open to the public, and easily accessible to everyone. Equilibrium 2 is Skanska's newest development in Bucharest, already LEED Platinum certified and recently audited by Access4you, achieving the highest level of certification in Romania. Whether it's individuals with reduced mobility, those facing visual or hearing challenges, or those with special cognitive needs, Equilibrium 2 offers access and communication solutions so that visitors and residents feel safe, welcomed, and respected.
"The Access4you® international certification mark granted to the Equilibrium 2 building is important for Skanska as it validates how we, as developers, create an environment adapted to the needs of our building users. We are pleased that our efforts and responsible approach to designing and constructing projects are confirmed by such certifications, and today, Equilibrium 2 is the first and only building in Romania certified with Access4you Silver," affirms Bogdan Voicu, Project Manager Commercial Development Division, Skanska CEE.
The second building of the Equilibrium complex, perfectly located near a variety of public transportation options and with numerous accessible entryways and indoor features, is ready to bring together businesses that will form an open, inclusive community strongly connected in every aspect of the environment.
"15% of the population, 1.3 billion people live with some kind of disability. I firmly believe that the first step in the (re)integration of people with disabilities is accessibility and reliable, detailed information about it. Without that, none of the further efforts to support inclusion can be realized. We are delighted that Skanska places such high importance on inclusion and prioritized accessibility during this prestigious project and shows positive example," said Balázs Berecz, founder and CEO of Access4you.
Technical details of the Access4you Silver Certification for Equilibrium 2
Equilibrium 2 office building has been designed to provide a barrier-free environment catered to a diverse range of individuals. The facilities available make access easy to wheelchair users, the elderly with restricted mobility, individuals with pushchairs, visually impaired individuals, those who are hard of hearing, and people with cognitive impairments. At this point of the audit process, the certification level obtained by Equilibrium 2 confirms that the accesibility features of the building are currently based on the minimum accessibility requirements set by Access4you.
The building's accessibility starts with its strategic location, as a public transport station(tram stop) is conveniently situated within a mere 250 meters walking distance from the building entrance. Furthermore, the building features accessible parking spaces withinits underground car parking area and also in the exterior parking, ensuring that wheelchair users can seamlessly access the premises.
A notable feature of the building's architecture is the inclusion of an accessible ramp with a 10% slope and multi-flight stairs that have been thoughtfully constructed to bridge the approximate 380 cm level difference between the public pathway on Gara Herastrau Street and the pedestrian area in front of the building entrance. For the visually impaired, contrasting markings are applied to help navigate these spaces.
The revolving door at the main entrance can be slowed down with a button, making it suitable for wheelchair users. This button is thoughtfully positioned at the right height both inside and outside the door. Additionally, large glass surfaces and evacuation doors are marked to aid the visually impaired.
Another feature is one aluminum mobile ramp with width of 76 cm for passage the height of 13 cm which is placed at the reception desk and in case of need can be installed at request. The request can be handled using a command button placed outside in parking and a receiver with ringer placed inside at the reception of the Building.
Internally, the building ensures ease of movement with spacious doors and pathways catered to wheelchair users, the elderly with mobility constraints, and individuals with pushchairs. Lifts are equipped with audible information systems, ensuring that users can easily choose the desired floor. In addition, the elevator touch panels include a Braille label button.
In case of emergencies, a designated evacuation lift is available to aid those with limited mobility. Staircases, that are designated for emergency use only, feature skid-proof surfaces, contrast markings on the first and last steps, and continuous handrails on both sides.
At the reception desk, a mobile induction loop with an external microphone is provided to communicate effectively with individuals with hearing impairments. Signage throughout the building is strategically placed to assist those with cognitive impairments, aiding their access and navigation.
For individuals with special needs, the building offers designated wheelchair-accessible toilets on all floors. Additionally, assistance dogs and non-therapeutic dogs are permitted in the building.
According to the National Authority for the Protection of the Rights of Persons with Disabilities, in March 2023, there were over 75,000 people with various disabilities in Bucharest, along with the category of elderly individuals who often require attention and facilities to easen their mobility. Being the only building in Romania with an Access4you Silver certification, Equilibrium 2 thus becomes an area accessible to a significant number of individuals with special needs.