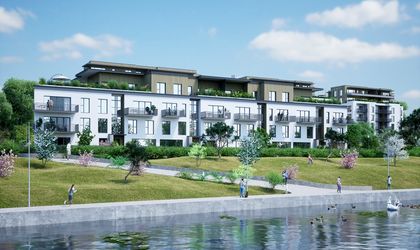 In six months since the construction start of the residential compound Quartier Azuga, STC Partners sold 50% of the phase I apartment units.
A mix of families, corporate people working in the Aviatiei/ Pipera area, people already living in the area upgrading their space and individual investors represent the main buyer categories in Quartier Azuga residential compound, located in Doamna Ghica area.
"We cannot be happier to see such results for Quartier Azuga, which confirms the great offering of our project. We have considered every detail in our concept and devised this unique set of benefits that is hard to miss, indeed, at competitive pricing. Managing to achieve such great results in just 6 months since construction start, gives us even more trust into the project and the wonderful community that we'll develop at Quartier Azuga", said Adi Steiner, Managing Partners, STC Partners.
The first phase of the project includes two buildings with a total of 93 apartments, from double studios to 4-room apartments, including apartments with gardens or penthouses, and will be completed by mid 2024 with the first residents expected to move in the third quarter of 2024, followed by phase II in parallel and with a target for completion of the entire project by mid 2025.
"Excellent news for our residential compound and the future residents is that this autumn the Doamna Ghica Passage is expected to be completed, which will offer 10 mins car driving access to Aviatiei/ Pipera area, one of the areas of interest in Bucharest", explained Steiner.
The Quartier Azuga compound comes with a wide range of benefits, including high energy efficiency. The project significantly exceeds the minimum nZEB requirements imposed for new residential buildings by offering 50% renewable energy coverage during a year, leading to up to 70% savings in gas and electricity bill costs, low carbon emissions, low maintenance costs, favorable conditions for accessing a mortgage credit and the prospect of reduced taxation in the future.