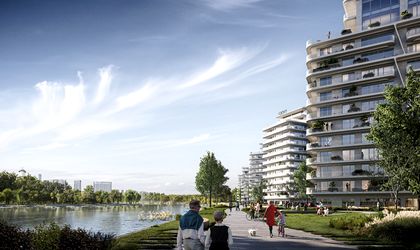 One United Properties (ONE), the leading green investor and developer of residential, mixed-use, and office real estate in Romania, has obtained the building permit for One Lake District, a large-scale sustainable residential development with 2,076 apartments, located right on the shores of Lake Plumbuita. The gross development value (GDV) for One Lake District is 337.7 million euros.
The residential compound will be developed on eight hectares of land, right on the shores of Lake Plumbuita, which will offer both spectacular views and direct access to the lake. The variety of services offered by One Lake District will provide residents with all the amenities they need in their daily lives, from parking and commercial spaces, to leisure, sports, and educational facilities for children, all based on a real estate concept focused on community and a sustainable lifestyle. One Lake District will benefit from the geoexchange system designed to provide renewable energy to all tenants, a system that is among the most energy-efficient solutions, environmentally clean, and cost-effective space conditioning systems available. The development is included in the partnership that One United Properties has started with Veolia Romania for innovative solutions aimed at improving the efficiency of energy consumption, as part of the developer's long-term strategy to deliver sustainable buildings with a low carbon footprint. By implementing this geoexchange solution, compared to the traditional one, approximately 2,000 tons of CO2 emissions a year will be avoided.
Consisting of approximately 2,076 apartments spread over 9 residential buildings, One Lake District will shape up as a community that will benefit from modern housing, built on sustainable principles, with innovative design and a wide range of integrated services. In addition to the 9 residential towers, the development also includes a four-level building dedicated exclusively to parking and another 3-level building for educational and administrative services. 2,614 parking spaces are provided both above ground and in the dedicated building. In addition, the 5 commercial spaces will bring future residents several commercial, gastronomic or leisure services. The excellent positioning on the shores of the lake, in an area that offers quick access to office spaces, restaurants, shopping centres, as well as the direct connection to the A3 highway, are advantages of One Lake District for a modern lifestyle in Bucharest.
"One Lake District will be an exclusive residential complex, built according to the high standards of quality that we promote in all developments. We offer a diverse palette of services specially designed for residents, as well as a selection of different residential units, from studios to 1, 2, 3-room apartments or duplexes. The compound is part of our company line of developments that also target the middle and upper-middle segment, and sales prices start at approximately 85,000 euros. The location we have chosen is, as with all our developments, the best the area has to offer, with quick access to all the necessary services. The location offers so many advantages and it surely represents the new important pole of the northern area of ​​Bucharest", says Beatrice Dumitrașcu, CEO Residential Division One United Properties.
One Lake District will have a gross building area (GBA) of ​​over 250,000 square meters and will be built in three development phases, estimated to be delivered by the end of 2026.