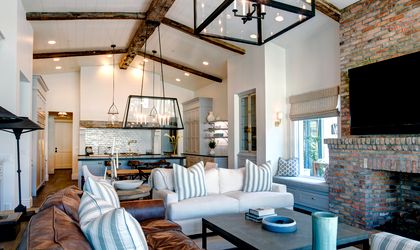 The residential sector in Romania performed above expectations in terms of total sales in 2020, with an increase of 19 percent compared to 2019, according to data from the National Cadastre Agency. The result was better than even the most optimistic estimations, considering the fact that 2020 had two months of total lockdown.
By Aurel Constantin
Eurostat statistics show that 45.8 percent of the Romanian population lives in overcrowded homes. Given this context, both local and international developers are expanding their investments in new and modern residential units. According to data collected by the Bucharest Real Estate Club, over 50 projects were delivered in 2020 or are under development until 2023 in Bucharest, with a total investment value of EUR 1 billion.
The capital city and its surroundings are among the most sought-after regions in the country, with a total population of over 3 million people. Over 24,000 new residential units are under construction in this area, according to the "Romania Residential Market Genome 2021" report released by real estate consultant SVN Romania. Significant developments are also being recorded in other regional residential markets in Romania, such as Constanta, Brasov or Cluj-Napoca.
Of all the residential units currently being developed in and around Bucharest, approximately 18,000-20,000 could be delivered this year. The number will depend on the degree to which developers will be able to maintain their current pace of construction and the ease with which they will complete delivery papers. This volume of deliveries would be similar to the one registered in 2020, when a new record was established in Bucharest and its surrounding areas, despite the COVID-19 pandemic. 20,733 residential units were delivered in the region last year, up 40 percent compared to 2019, according to data from the National Institute of Statistics.
"The overall difficult context we are living through has had a limited impact on the local residential market, which withstood the macroeconomic shock caused by the COVID-19 pandemic. Significant increases in the number of closed transactions were recorded in all regional residential markets in Romania, with new delivery records in Bucharest and the best level of accessibility for purchasing a new home in recent history. Today we are in a far better position compared to March 2020, when the health crisis started. Therefore, 2021 has the potential to bring more great results," said Andrei Sarbu, the CEO of SVN Romania.
2021 to bring significant changes
The supply of new housing in 2021 will see insignificant changes from 2020 figures. The largest share of the units due to be delivered this year in Bucharest and its surroundings – 55.2 percent – will target the mass market segment, with developments in large urban neighbourhoods or on the outskirts of the city and with prices that reach EUR 1,300 per net square metre.
Approximately 8,300 new residential units due to be delivered in 2021 will target the middle market segment, a figure similar to the one recorded in 2020. Prices for such units usually start around EUR 1,300 and go up to EUR 2,000 per net square metre.
The middle market segment will thus continue to attract a significant share of deliveries, in a context in which wages have continued to increase in recent years. At the same time, the demand for well-located homes, either at the heart of large neighbourhoods or in the semi-central and northern areas of Bucharest, has continued to grow. In general, these units have bigger-than-average surfaces and high-quality finishes.
The premium and luxury segment is due to register its best results in 2021, with around 700 units expected for delivery. Usually, premium and luxury units are located in the northern part of the city and have trading prices that start from EUR 2,000 per net square metre. Overall, the high-end market in Bucharest has a yearly value of EUR 250 million, according to SVN Romania estimates.
The accessibility of purchasing a new home in Bucharest reached the best level in modern history at the beginning of 2021. Today it is for times more accessible to purchase a new home in Bucharest than it was in 2008, according to the profile index calculated by SVN Romania.
In January 2021, you needed 99.6 national average net wages to purchase a new one-bedroom apartment in Bucharest (50 sqm) or the equivalent of a period of 8.3 years of work, compared to 102 average net wages (8.5 years) that would have been required in March 2020, when the COVID-19 pandemic broke out in Romania.
In January 2019, the same apartment would have amounted to 107 average wages (or a period of 8.9 years). A year before that, the price of the home would have represented 117.6 average wages (9.8 years). During the market peak of 2008, you'd have needed no fewer than 393.6 average wages or the equivalent of almost 33 years of work. We should note that the average wage in Bucharest is approximately one third above the national level.
"Despite the fact that Romania has the highest home ownership rate in the EU (around 96 percent), the demand for new homes is expected to keep growing based on several critical factors," Dan Flesariu, EY Romania
A driver of foreign direct investments
The residential sector was the unexpected winner of the pandemic, as opposed to the industrial sector, which had been expected to do well from the very beginning. The overall feeling about the residential sector was rather bleak during the lockdown of spring 2020, but it recovered quickly and sharply during Q2-Q4 2020. Transaction volumes in 2020 matched the 2019 levels, while overall prices grew by an estimated 5 percent.
"Demand for residential spaces is on the rise and, as long as prices maintain a reasonable and healthy margin over inflation, this trend should be sustainable. Despite the fact that Romania has the highest home ownership rate in the EU (around 96 percent), the demand for new homes is expected to keep growing based on several critical factors," said Dan Flesariu, Head of Real Estate Transactions, Strategy and Transactions at EY Romania. One of these factors is that more than 80 percent of the housing stock is about 40-50 years old or older, which means it is obsolete, physically depreciated, and energy-inefficient. Apart from the fact that half of Romanians are living in overcrowded homes, there are also high rates of domestic migration and commuting. According to the World Bank, a net total of 2 million people migrated from rural to urban areas in the first decade of the current century, and the trend is expected to continue in the second decade.
Furthermore, almost 30 percent of the 4 million Romanians working abroad intend to gradually return to Romania in the foreseeable future, and they are seeking homes at European standards. "We expect that the home rental market will mature and that professional investors in dwelling stock will step in," Dan Flesariu added.
The Bucharest Real Estate Club notes that while one-bedroom apartments remain the most popular in the middle segment development mix, thanks to their low prices, the luxury segment continues its development trend. There are increasingly sophisticated clients whose incomes have not been affected by the pandemic and who are willing to pay as much as EUR 4,000-5,000 per square metre of exclusive property.