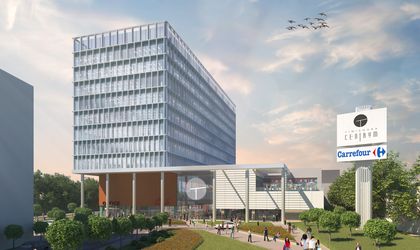 The largest area traded on the real estate market in Romania in the first quarter of the year is in office buildings in Bucharest, where 110,000 square meters were leased, according to a special analysis conducted by a CBRE.
On a general level, the modern office space inventory reached 3 million square meters, of which 51 percent are in Class A projects.
"In the first three months of the year, 93,000 sqm were completed in three office projects: Renault Bucharest Connected, The Mark and The Bridge – Building B. At present, another 216,000 sqm are under construction with delivery dates announced in the Q2 – Q4 2019 period, of which 60 percent are already pre-leased. The six projects that are expected to be completed by the end of the year are: Business Garden Bucharest, Expo Business Park, Oregon Park – Building C, The Light, Equilibrium – A, New Square Times – Building C," shows the CBRE analysis.
According to the quoted source, out of the total 110,000 sqm traded at the level of the Capital between January and March, 2019, more than three quarters (79 percent) were new applications, and 21 percent consisted of renegotiations and renewals.
As far as the most demanded areas are concerned, the western part of Bucharest continued to be top, with 43 percent of all transactions, followed by the center, 23 percent, and CBD (Victory Square, Charles de Gaulle Square), 12 percent. Also, most of the rental requests came from IT & C companies (63 percent), followed by financial players (16 percent) and service sector (12 percent).
The CBRE also reveals that in the first three months of the year, the stock of modern commercial space reached 3.63 million square meters, of which 63 percent in shopping centers, and the remaining 37 percent in retail parks. Regional cities attracted 68 percent of all retail developments and 472,000 square meters are under construction or design and are due to be delivered between Q2 2019 and Q4 2020.
Also, on the industrial and logistics market, 109,000 sqm were built in the reference period, and by the end of this year the delivery of several projects in the country, amounting to about 620,000 sqm, has been announced.
On this segment, the modern inventory of industrial and logistics space reached 3.85 million square meters, at national level, of which 44 percent is located near Bucharest, 24 percent in the west and northwest of the country, 16 percent in south and 14 percent in the central area of ​​Romania. In this context, Moldova remains the region with the fewest developments on this segment, with only 2 percent of the total area of ​​industrial and logistics space.