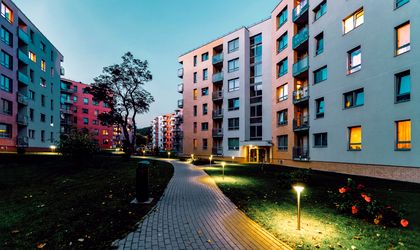 The real estate market was fairly stable in 2022, even with everything that happened during the year, including the war in Ukraine, rising energy prices, inflation, supply chain disruptions, and humanitarian crises—all under the spectrum of a prolonged pandemic and the threat of nuclear war. But the real estate market proved resilient enough to keep going, avoiding drops in prices or sales. The total value of transactions even saw an increase of 39 percent, according to Cushman and Wakefield Echinox data.
Real estate prices did not decline in 2022, but they did experience a stagnation, only moving a few percentage points up from 2021 levels. Still, the real value of assets was lowered due to inflation. "Real estate prices have already decreased, and we are probably seeing a minimum level now. However, we are not talking about a decrease in absolute value, but one in relative value. And that's because developers tried to maintain the price of real estate constant throughout last year, despite the rising costs of all construction materials and, in general, of all products in the economy. We witnessed the inflation rate reaching 15.9 percent in 2022, which was a challenge for both developers and customers. We hope to see a flattening of construction costs in the first half of this year, with housing prices adjusting based on this factor," says Adrian Stoichina, COO at Prima Development Group.
Inflation remains high at the start of 2023, and it is only expected to begin decreasing in the second half of the year, which means it is still putting pressure on raw materials and construction costs.
"Inflation is certainly the main current challenge, as it puts pressure on costs and, in the end, on the product itself. Rising interest costs also continue to be a challenge for developers and customers alike. We do not expect to see any decrease in real estate prices in the near future. However, with such issues on the map, we have noticed that customers are more insightful when approaching a property, and there's been more interest for high-quality developments that also represent a long-term investment," says Beatrice Dumitrascu, CEO of the Residential Division at One United Properties.
But there is yet another type of pressure on the market, also stemming from the problems of 2022: the rising cost of mortgages. High inflation has led the Central Bank to increase monetary policy interest rates, forcing all banks to display higher interest rates on loans and leading to a stagnation in loan volumes.
"There is a double pressure. We are indeed seeing a stagnation in the number of mortgages being granted, while the cost of construction has increased considerably. Moreover, the desire to develop sustainable and energy-efficient real estate projects comes with a higher price. Today, inflation, the cost of energy, and especially market uncertainty will not have a negative effect on construction prices. The result will be a decrease in the number of new projects and, implicitly, in the supply of quality residential projects," says Jan Demeyere, Architect and Partner at Speedwell.
Lower supply
The perspective for 2023 is not great in the current conditions. Not only is demand decreasing, but the supply is on a downward trend too. "I am convinced that there will be a decrease in supply in 2023, and that it will only get sharper in 2024. There is uncertainty about the future of the market, as the war in Ukraine is still going on and causing fear among people. History has taught us that when the market is driven by fear, there is also an aversion to risky investments, and real estate is considered to be a risk factor," Jan Demeyere points out, adding that authorities should be more open to new construction projects, especially in Bucharest. "It is also the responsibility of the authorities to create a secure and reliable authorisation environment. As long as the issues and uncertainties related to the permitting process persist, you will see a big step back from investors interested in the local market," he argues, referring to the situation in the Romanian capital city, where most permitting processes have been halted due to a lack of urban planning.
But not all projects are on hold. Several new residential projects are due for completion this year, and many of the apartments have already been sold. "I think the supply will remain somewhat constant. The number of new real estate projects up for sale has declined in recent years, generally because of the urban planning jam in Bucharest. However, there are a number of projects that were already in the process of getting authorised earlier, and they will obtain their permits in the coming period, as well as others that have recently obtained permits. For example, over the past few years, we have delivered two important residential developments in Bucharest: Boemia Apartments, delivered in 2020 and completely sold out, and Core Timpuri Noi, which was finished in December 2021 and is now 80 percent sold out," Adrian Stiochina notes.
"We saw increased demand for sustainable residential units last year, which we can now respond to with the building permits we have recently obtained. In the last 3-4 months, our company has received authorisations for six projects, and construction has already started on some of those. In Q1 2023 we will start the construction of One Lake Club and One Lake District, located in north Bucharest. In total, we will deliver 4,000 apartments over the next 3-4 years. We believe this will address the consistent demand for new, green certified units in premium locations. Nevertheless, Bucharest needs legislative and urban predictability in order to develop and meet its inhabitants' needs," Beatrice Dumitrascu argues.
New residential buildings
What will keep the real estate market going is the fact that there's a need for new buildings of all kinds, from residential to logistics and offices. Romania is still a developing economy and there are many things it must improve, including its residential buildings. "Romania has a great need for good quality residential developments. On the one hand, there is a stock of houses and apartments that do not meet the quality standard and have low energy standards. Given the high energy costs, people living in these conditions are losing money every day, but at the same time they cannot afford a new home. The need is there, but the affordability of new homes has dropped considerably. We can see that the lower-middle market segment is moving towards renting, while the upper-middle segment will continue to generate demand, but at a lower rate, and people will choose very carefully when they finally buy," Demeyere argues.
In times of economic stagnation, it is no surprise that developers are looking for higher paying customers as they may have some resilience during a crisis. "Clients are looking for quality apartments, as they no longer want to live in developments that are not meeting their needs. Demand is strong: at the end of September 2022, out of 2,000 apartments under construction in our portfolio, 90 percent had been sold, as early as one or two years before completion. The range of customers has diversified in recent years, so One United Properties is looking at middle and top management from corporations or local and international companies, entrepreneurs, and freelancers. We have quite a large number of customers and we don't just offer high-end penthouses and designer apartments, but also residential units with prices starting from EUR 100,000, which are more accessible and similar in price with the stock of old apartments, but with superior quality, integrated facilities, and very good locations," says Beatrice Dumitrascu.
"Bucharest needs tens of thousands of new homes, in the context where most of its old buildings are approaching or have already exceeded their intended lifespan, which is about 50 years. People want to live in new buildings that offer them a better lifestyle in the city. However, the general context and the economic challenges will make the demand for new housing remain the same in 2023 as compared to the March-December period of last year. People looking to make a long-term investment that protects their finances from inflation, as well as people in the medium-upper medium segment looking to make un upgrade and move into a new home will be the ones who will buy in 2023," Adrian Stoichina concludes.