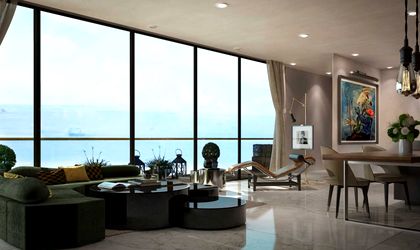 One United Properties, the leading green investor and developer of residential, mixed-use and office real estate in Romania, has obtained the building permit for Phase 2 of One Mamaia Nord residential compound, the most exclusive development located on the Romanian seaside.
As the building permit is granted, One United Properties will begin works on the second phase of the development, with a total built-up area of ​​approximately 17,000 sqm, estimated to be delivered in the first quarter of 2025. One Mamaia Nord Phase 1 was completed in 2021. At the end of 2020, One United Properties announced the acquisition of five plots of land in proximity to Phase 1, intended for the expansion of the development.
"One Mamaia Nord is located in the most desirable area for holidays and entertainment on the Romanian seaside, surrounded by a wide variety of beaches and restaurants. It is a boutique real estate concept, a mark of the seaside living quality, whether we are discussing holiday properties or permanent homes. The local demand for this segment is also dynamic and confirmed by the success of the units in One Mamaia Nord Phase 1, which are completely sold out", said Beatrice Dumitrașcu, CEO of the Residential Division at One United Properties.
One Mamaia Nord Phase 2 will consist of a two staircases building totalling 10,000 sqm of the saleable area of ​​contemporary design apartments and over 3,000 sqm of gardens and private terraces. The development will also benefit from 142 underground parking spaces spread over two levels. Just like Phase 1, One Mamaia Nord Phase 2 will offer front or side sea views apartments, as well as intelligent space partitioning, high-quality finishes and all the advantages of green buildings. In addition, ventilated facades are specially designed to reduce noise and radiation.
Located in the most desired area of Mamaia resort, One Mamaia Nord is surrounded by beaches and restaurants and has direct access to a private beach (H2O beach). At the same time, it is the first residential development in Mamaia that has completely underground parking.