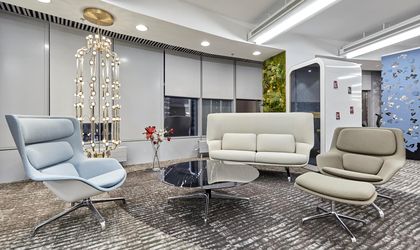 Workspace Studio, a company specialized in ergonomic office design solutions and the unique accredited partner of Herman Miller in Romania, announces the trends that are emerging in the design of workplaces. The current offices are adapted to a hybrid office-remote work system.
Thus, open spaces become more airy, with ergonomic and flexible workstations, acoustic booths provide privacy and separation on demand, while multifunctional areas increase their surface.
Last year, Workspace Studio carried out several dozen office design and redesign projects for organizations that have adopted a hybrid office-remote work model. The company's representatives talk the directions that dominate the new philosophy of arranging ergonomic workspaces in the post-pandemic era.
Open Office becomes "more open"
After a complicated year for employers and employees, work has become more flexible both in terms of working hours and the place where it takes place. Offices are reinvented as spaces for physical or virtual collaboration. They often become more exclusive, dedicated to the most valuable employees, to those who innovate and create value.
Serving a smaller number of employees who come to the office every day, the office integrates larger spaces, very good air ventilation and quality materials, which allow constant sanitation and cleaning. Open office spaces are becoming more open, airy and more flexible – says Horațiu Didea, Managing Partner Workspace Studio, a company specialized in ergonomic office arrangements.
Smart acoustic booths
To facilitate teamwork, collaboration and exchange of ideas, the number of separated spaces are increasing, but not in the form of rooms with walls, but as delimited areas, with decorative and furniture elements, or acoustic booths.
With the need for privacy and separation in offices in the context of the health crisis, the demand for ergonomic acoustic booths has increased globally and locally. In 2020, acoustic booths generated twice as much sales for Workspace Studio as the previous year.
This year, Workspace Studio brings to Romania "Framery One", the first fully connected acoustic booth. Framery One was recently launched by Finnish manufacturer Framery, a global leader in office acoustic solutions, and includes integrated technology to support remote collaboration.
Framery One booth is an ideal environment for video conferencing. The distance between the user, the camera and the screen is optimal, and the outside noise is completely eliminated, so the remote collaboration is efficient and productive. This type of spaces, which ensures both intimacy and distance, as well as connection and presence, become a constant in the projects we start this year – says Horațiu Didea.
Framery One is not only soundproofed, but also has a high-resolution touch screen and an intuitive user interface, and the user can control the airflow and lighting.
Thus, Framery One can be a fully connected personal workstation, which allows separation inside open spaces.
Wellbeing and flexibility
Employee wellbeing has become a priority for people-oriented organizations. They take steps to maintain the physical and mental health of employees so that they remain productive and engaged, no matter where they work.
Well-being, safety and comfort have been associated lately with your own home, so the current office arrangements introduce several concepts from residential design.
Just as the design of workstations is integrated into homes for work from home, so the kitchen, living or dining areas are harmonized in the design of offices. The result is a flexible and warm place that makes employees feel at home. The psychological effect is to increase engagement and performance – says Horațiu Didea.
Multifunctional areas for relaxation, connection, learning and exchange of ideas
The activities performed by employees in the office have changed fundamentally in recent years, due to the increased mobility of work tools – laptops, mobile phones, Internet access and data. Individual processing work can be done from anywhere, while the office remains the destination for innovation, teamwork, collaboration, exchange of ideas or information.
After months of distancing, employees return to the office with a desire to connect, but also some reluctance to close interractions. Therefore, offices need more than ever areas for relaxation and informal socialization, airy cafes and spaces that can serve various activities. Multi-functional areas exceed 50% of office space.
The time for brainstorming in a formal meeting room is over. This type of interaction can take place one day in the cafeteria, another day standing at a desk separated by acoustic panels, or another day zooming in. Flexibility is key and must be supported by multifunctionality. The spaces can no longer be dedicated to a single activity, but to a suite of activities meant to create value – adds Horațiu Didea.