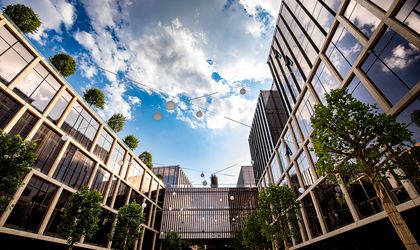 The business hub to be developed in downtown Iași upon completion of Palas Campus, the largest office building in Romania in terms of area, will also include Expleo, a global engineering, technology and consulting company. Expleo leased 3,000 sqm in the newest urban regeneration project developed by IULIUS in Iași, nearby the Palas mixed-use complex, and set to open this Spring.
Operating in Romania since 1994, Expleo chose to grow its operations outside of Bucharest in Iași in 2015, being drawn by the talent pool in what is one of the largest university centers.
"We would like to welcome Expleo company to Palas Campus! The fact that they chose us is a recognition of our passion and dedication in working on this project, which we will soon open. There are 60,000 sqm of office and retail premises in the very heart of Iași City, providing the most modern facilities and set to accommodate dynamic creative companies. Palas Campus will be an innovation hub and the largest regional business community, with a positive impact on the competitiveness of Iași City," said Ionuț Pavel, Office Buildings Manager Palas Iași & Palas Campus.
—
"The office in Palas Campus will accommodate the entire Iaşi team which currently consists of almost 400 people. We are eager to witness the growth of this location which is a key support for the group in leveraging its deep sector knowledge and wide-ranging expertise in fields including: AI engineering, digitalization, hyper-automation, cybersecurity, and data science. As we continue to hire specialists in various roles such as: Sr. Testing and Validation Engineer – Automotive Projects, System Engineer – Automotive Projects, Model Based Design Engineer – Automotive Projects. Cyber Security Engineer – Embedded Systems, Data Analyst – IT&C Projects, Software Developer (Java/Angular) – IT&C Projects, we will have the opportunity to help them lead their own career growth and support Expleo's global mission. Our new location will offer a wide range of spaces to ensure a positive office experience for our people: meeting rooms, cafeteria, and relaxation areas. We designed the space to meet all the needs of our colleagues, and we adapted it to be optimally used both for teamwork and for individual work.  We are excited to start working in our new office," said Vincent Fusier, Chief Operating Officer (COO) Expleo Romania.
Expleo is a company with 40 years of experience in AI engineering, digitization, hyper-automation, cybersecurity, with offices in 30 countries and more than 15,000 employees, a business generating more than €1 billion in business. The team in Romania works on projects dedicated to the automotive and aviation industries, with solutions that reinvent land and air travel.
Created as an expansion of Palas Iași, the first mixed-use urban regeneration project in Romania, Palas Campus combines class A office premises with retail facilities, enabling the employees' access to a variety of services in the immediate proximity: various lunch break options, green spaces, outdoor coworking areas, and everyday use services.