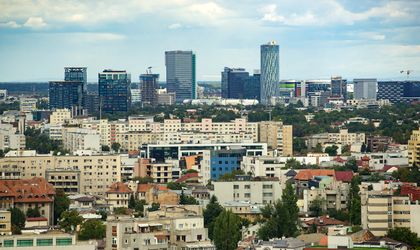 With the development pipeline for new office projects being rather limited going into 2024, developers are instead working on enhancing experiences for tenant companies in a bid to accommodate various work arrangements that focus on flexibility. Office owners say that hybrid work is becoming mainstream and that workspaces can be adapted to improve the productivity and well-being of employees.
By Ovidiu Posirca
In Bucharest, the largest office market in the country, no new major deliveries are expected until the end of next year, while the existing development pipeline points to around 100,000 sqm in new completions during 2023. The outlook is quite similar in regional cities, with just around 70,000 sqm of office space slated for delivery in Cluj-Napoca and Iasi, according to Colliers data.
"We're seeing companies reconsidering their office space needs, most of them optimizing and reducing occupied areas—but there are exceptions that we must also acknowledge. Some companies are not only maintaining their existing spaces, but actually expanding as a result of their continuous growth," says Victor Cosconel, director and head of the office & industrial agencies at Colliers Romania.
For Bucharest, the slim pipeline could also be explained by the massive slowdown in permitting for new real estate projects, which has become visible in recent years, so more office developments might be announced as soon as the permitting procedures are streamlined. Around 300,000 sqm are currently in different planning stages.
"As a result, only developers with existing permits have been able to continue their projects, leading to a concentration of development among these participants. Consequently, market demand has been absorbed to a significant extent by these developers," says Tudor Ionescu, head of A&T services | office at CBRE Romania. This year, Bucharest will record less than half of the office deliveries it had in 2022. Looking ahead to 2024, there will be a gap in deliveries as most of the larger-scale developments are scheduled for 2025.
However, Ionescu is bullish on the potential of regional cities to attract more investments and fresh tenants in the office segment.
"Existing and planned projects in Iasi, Cluj-Napoca, and Timisoara, as well as in emerging cities like Brasov, Sibiu or Oradea will collectively enhance Romania's image as a desirable business destination. This will enable key market players to diversify their presence in the region by attracting top talent," he says.
Developers have announced the construction of more than 275,000 sqm of new office projects in the next 5 years in Cluj-Napoca, Timisoara, Iasi, and Brasov, and therefore the modern office stock should reach approximately 1.3 million sqm, according to Vlad Saftoiu, head of research at Cushman & Wakefield Echinox. Iasi and Cluj-Napoca will benefit from the largest new supply of office spaces in the coming years, with 164,000 sqm and 75,000 sqm respectively, while projects with total leasable areas of 16,000 sqm and 21,000 sqm are expected in Timisoara and Brasov.
Office Demand Shaped by Hybrid Work
The quality of offices and nearby facilities are a key aspect that both employers and employees take into account to a higher degree than they did before on the backdrop of the hybrid work model, explains Ionut Pavel, Office Buildings Manager at Palas Iasi & Palas Campus.
"Iulius projects integrate the best solutions in terms of office environment and infrastructure. Smart, green buildings both inside and outside, open spaces full of natural light, common areas that facilitate networking and brainstorming, solutions to relax at work in order to stimulate creativity and efficiency, and so on. Companies have cleverly designed their spaces, paying attention to employee requirements and expectations," Pavel notes.
He adds that physical presence is 15 percent higher in mixed-use projects than in office-only projects.
"The retail, office, and entertainment components stimulate each other. For instance, in our projects we've also noticed that footfall rates are higher midweek, on Wednesdays and Thursdays, when most employees are usually at the office," the Iulius representative points out.
The developer has created two major regional business hubs: one in Iasi, bringing together 70 companies and 14,000 employees in the Palas and Palas Campus offices, and the other in Timisoara, where there are 9,500 employees working for 50 tenant companies.
The new workplace ecosystem balances working from the office, from home, and from anywhere, says Roxana Nicolae, workplace manager asset services at Cushman & Wakefield Echinox.
Development firm Speedwell sees companies in both Bucharest and regional cities maintaining a wait-and-see position and avoiding major decisions until the hybrid work model is more clearly defined.
"In difficult times, companies need to excel and differentiate themselves from the competition. I am 100% sure that companies whose employees are working together physically versus remotely have a competitive advantage. The chemistry between people and the drive of working in a team is essential for a company's success. This will become increasingly clear in the future," says Jan Demeyere, co-founder and partner at Speedwell.
The company's portfolio includes office, residential, light industrial, and mixed-use projects in Bucharest and regional cities. Demeyere says that tenant companies are very focused on the price per sqm when looking at office projects.
"What I am seeing however is that it is a struggle for a lot of tenants to find out what exactly they're paying for. We use Boma as standard, but in other buildings the calculation is based upon another principle. As a result, you might pay EUR 15 per sqm for a 1,000 sqm office with a certain add-on factor and service charges, and end up paying more than the EUR 17 per sqm you'd pay in a newer building. We always try to show tenants that a sustainable rent is about efficiency, layouts, and workflow in combination with the well-being of employees," Demeyere adds.
In terms of office rent, Bucharest has the lowest prices compared to other capital cities in Central and Eastern Europe (CEE). While the annual prime rent price in Bucharest stands at EUR 240 per sqm, in Budapest it reaches EUR 312 per sqm, while in Warsaw it stands at EUR 324 per sqm, according to a BNP Paribas Real Estate report.
"Higher construction and financing costs together with the sustainability trend are pushing investment costs upwards, and this is not being reflected in the rental prices. We are seeing a downward trend in new deliveries and the prediction is that in two years' time there will be a historically low, almost zero, inflow of new office space," says Speedwell's co-founder.
Getting back to changing work patterns, consultants point out that the best companies realise that office presence frequency is a team decision, where business teams come together to develop their own schedules and game plans that work best for everyone.
"Companies understand that one size does not fit all and that different segments of the workforce are likely to have vastly different responses to the current work experience," says Nicolae of Cushman & Wakefield Echinox.
The shift in workplace presence, coupled with the increasing implementation of Environmental, Social, and Governance (ESG) criteria by corporations, is expected to play a significant role in shaping future demand within the real estate market.
"The hybrid working scenario, in various shapes, has influenced the office demand in all markets. It is a test, a trial-and-error approach, which shall need proof of time before being validated. Recent surveys show the negative impact on employees and companies' productivity and performance. Nevertheless, there shall be a request for office buildings and as experienced in past challenging periods, prime located, high quality office projects will be required," says Antoniu Panait, managing director at Vastint Romania.
On the sustainability front, Panait advises companies looking for office space to perform due diligence with regard to the current ESG concerns and reporting needs.
"Sustainable development and efficient operations are part of our core business – this leads to top ranked buildings. Proof to our approach is the LEED Platinum certification of all our local developments, Building A in Business Garden Bucharest occupying the 3rd place worldwide – 98 points under the LEED CS 2009 certification standard, being the market leaders as we hold the top 4 places in the local market under this certification. All our buildings are supplied from their delivery date with electricity coming from renewable sources," adds the Vastint Romania managing director.
At One United Properties, the local developer with an office portfolio of 118,000 sqm, the adaption of workspaces is an ongoing process, as companies are now willing to invest in modern certified offices, in good locations, with lots of facilities for their teams.
"Nowadays, companies are taking it to the next level and thinking of creative ways to arrange offices so that employees would want to come back and spend more time there, where they can interact with their colleagues. We have had situations where certain clients relocated from old spaces to new ones, which came with a kind of refreshing of the work areas, and we were surprised to find out that those who were working in a hybrid model with just three days at the office started to want to come to the office daily," says Mihai Paduroiu, CEO of the Office Division at One United Properties.
He adds that in the meantime, some clients have ordered dozens of new desks to accommodate those who wish to return to the office because the environment is much more appealing.
"The new office is certainly becoming more and more appealing and serving employees' needs for working and socialising, as well as providing relaxation, privacy, and creative space," says the CEO.
Paduroiu also mentions the issue of higher prices for construction materials, which is pushing up development costs for new office buildings. This is explained by the high demand for public infrastructure projects, the increasing manufacturing costs for these materials, and the surging transport prices, especially by sea.
"All these factors, to which we can add increased private sector demand, have continued to push prices upwards," Paduroiu notes.
It is still too early to estimate the impact of higher construction costs on the rents paid by companies, and landlords will have to keep their buildings attractive on the leasing market as some traditional demand drivers are drying up.
Demand for office space in Bucharest, as well as in other cities in the region, is by far dominated by IT companies, with the sector accounting for 48% of total leasing activity over the last 5 years, according to the latest CBRE data. However, big tech companies have cut staff in the past year and restructuring operations are still taking place in major economies. Pundits say the impact in Romania will be rather limited due to the attractive cost structure for skilled employees. For instance, Iulius fully leased its Iasi-based Palas Campus, the largest office building in Romania, to international players in the IT and automotive industries. Its biggest tenant is e-commerce giant Amazon.
"Regarding new demand generated by companies considering Romania as a destination, we should exercise patience in the next 12 to 18 months," says Ionescu of CBRE Romania.
He explains that Romania remains a highly sought-after destination that will solidify its position as a focal point for large multinational corporations. Recently, it was announced that Bucharest had the fourth highest rise of the last 12 months in the Global Liveability Index, gaining 21 positions. Romania's capital climbed to 99th place out of 172 in a ranking that places Vienna, Copenhagen, and Melbourne in the top three.
Bucharest's profile is rising in the eyes of large multinational companies and it is also recording investments in niche offices that cater to a wide range of users. For instance, Hagag Development Europe opened in early 2023 its first Business Centre, as part of its private offices division. To date, the project has reached an occupancy rate of 75 percent, with current demand at double the existing capacity, so the developer decided to add another 750 sqm of leasable space in H Private Arghezi.
"Yes, we would say that hybrid work models are reshaping the office market. Nevertheless, we continue to see an increased interest for our conventional leasing spaces, though the decision-making process does take longer now than before the pandemic. So, the office is not dead, but it is evolving," concludes Yitzhak Hagag, co-founder & controlling shareholder at Hagag Development Europe.
Post-Pandemic Workspaces Need Specialised Cleaning Services
For small and medium-sized companies, the return to the office has been bigger, and these tenants are looking for professional cleaning and disinfection services following the pandemic.
"In spaces ranging from 200 to 1,000 sqm, organisations that have previously had in-house cleaning are now looking for external providers to maintain frequency, professionalism, and reliability," says Mark Thompson, director at EcoCleanFM. Talking about trends in the facility management sector, Thompson points out that these firms have emerged as key facilitators in achieving many sustainability goals and that they play a role in the reduction of ongoing operational costs through consultation and management. "Predictive maintenance—rather than reactive maintenance¬—is also playing a key role for early adopters and I think this will continue in the future. Early reports have proven it to be an efficient and cost-effective strategy, and it can also be applied to cleaning as the industry looks towards robotics to increase efficiencies and reduce labour costs. It is a very exciting time for the industry as we begin to see these changes implemented in new and existing facilities," says EcoCleanFM's director.