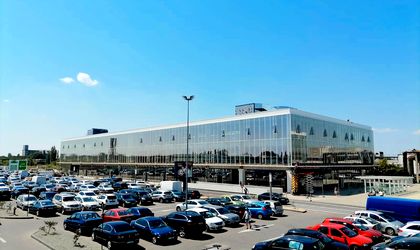 Catinvest continues the expansion of Electroputere Parc and opens a second mixed-use building adding 12,700 square meters of Class A offices and additional retail spaces, as part of a €40+ million total investment. The new building includes 8,300 square meters of offices and 4,400 square meters of retail, alongside new underground parking spaces for tenants and customers.
With this new extension, the West Wing of Electroputere Parc has the capacity to accommodate a total of approximative 2.000 employees in the Class A office spaces. The new offices are already leased by tenants like Ubisoft, the French leader in videogaming industry, and Operative Media, while the offices opened at the end of last year are occupied by Hella, the German multinational leader in automotive. Overall, the occupancy rate of the offices in both buildings is over 65% and is expected to rapidly increase.
"At Catinvest, our goal is to constantly develop Electroputere Parc, offering local businesses and residents an extremely well positioned and very accessible hub for working and shopping. With the second Class A office building mixed with retail, we strengthen Electroputere Parc's leadership in Oltenia and consolidate our position as a powerful mixed-use real estate provider in the region. Despite the challenging times we are all still facing due to the pandemic, we are seeing significant interest from retail tenants as well as offices, driven by people's and business' need to return to normal as soon as possible", said Jibril Semour, General Manager of Catinvest Eastern Europe.
"We are happy to move our studio to this vibrant part of Craiova, a great new home for the creativity and passion of our teams. The partnership with Catinvest will allow us to ensure the best facilities for all our colleagues there and to further develop Ubisoft Craiova as the place to be for the young talent in town", said Cristian Pana, Managing Director Ubisoft Romania & Serbia.
"Operative is focused on delivering market leading technology solutions to the world's largest media companies. Thanks to Catinvest, we are now able to expand our employee footprint in Craiova leveraging this new modern office space. We are dedicated to creating productive and collaborative work environments for employees, while also focusing on safety and flexibility. As more employees return to the workplace in the coming months, we are excited to provide them with first-rate facilities in an accessible part of the city", said Lorne Brown, CEO Operative.
Apart from this new mixed-use building, construction works relating to another extension of Electroputere Mall are also ongoing at full capacity. This new extension, expected to be completed by March 2022, will bring around 5.500 additional sqm GLA of retail, as well as 1.000 sqm of outdoor terrace for restaurants.
Further development plans include additional retail, offices and other services such as co-working spaces and aparthotels with a total investment budget of almost €60 million over the next 2-3 years, contributing to the development of the region.
"Being a private family company with a long-term perspective gives us the possibility to keep investing in our projects even in difficult contexts. Electroputere Parc is already a regional power zone, benefitting from the best location in the city. I am fully committed to further developing this already exceptional asset to better meet the needs of our clients", said Bertrand Catteau, President of Catinvest Group.
The French real estate group Catinvest, which owns and manages Electroputere Parc, also owns and manages several shopping centers in Romania – Carrefour Orhideea and Cora Pantelimon in Bucharest and Carrefour TOM in Constanta – as well as in Eastern Europe – Auchan Savoya Park in Budapest and Tesco Borska Pole in Plzen. Catinvest is also active in France in residential and shopping centers activities. In total, Catinvest owns and manages more than 500,000 square meters of spaces in France and Eastern Europe.