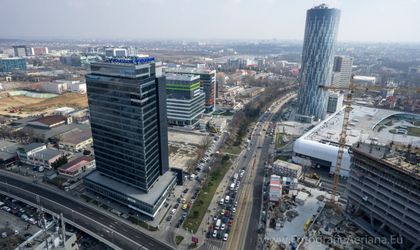 Bucharest's office market might reach double digit vacancy rate on some submarkets this year, while the new offer will be around 350,000 sqm for 2019, and around 60 percent of has already been pre-leased.
According to Mihai Patrulescu, senior associate, Investment Services Colliers International, the demand on the market is affected by the strained situation of the workforce.
"The market is practically only relying on new graduates; unemployment is very low. We are at a historically low point of labor force. That is why the new take-up will plateau or maybe drop," Patrulescu told BR.
The huge value of pre-leases in 2019 is mostly for relocations, while there aren't that many new players, and that will cause growing vacancy rates in some Bucharest submarkets.
New buildings are more attractive, using new technologies and market trends, even if the rent value seems to grow. If not rent, the amenities offered by developers are dropping, at least for prime offices.
Vacancies in many submarkets
The most resilient submarkets are Floreasca-Barbu Vacarescu, with a historical vacancy rate of 5 percent, and CBD, with 7.5 percent or even Dimitrie Pompeiu, with 10 percent.
"There are two types of buildings that will keep high the interest of the companies. The new prime buildings with low vacancy, which will still be attractive for investors and can help the yield compression, and buildings that come with an added value angle," explains Patrulescu.
In fact, according to the chief economist of Colliers, Poland is a good example because it already gone through this phase. And in terms of yield compression, the recipe is the same.
"In Poland there where three years when nothing really happened, and within the next two years we saw a very sharp yield compression," says Colliers's chief economist.
The Bucharest office market
In Bucharest, there are currently 500,000 sqm of new office buildings under construction, and approximately 350,000 square meters of space will be delivered by the end of the current year.
The most active developers in terms of deliveries will be the Portland Trust groups (63,000 square meters in Expo Business Park and Oregon Park), Vastint (62,000 square feet in Business Garden and New Times Square), Globalworth (42,000 meters squares in Renault Business Connected) and River Development (38,000 square meters in The Light and Sema Offices).
The office buildings sector is developing in other major university centers as well, such as Timisoara, Cluj-Napoca, Brasov and Iasi, where new buildings with an area of ​​approximately 130,000 square meters will be put into use.