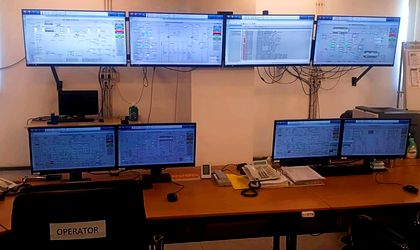 Yokogawa Romania, leading provider of Industrial Automation and Control solutions, implemented a systems' upgrade to C.T.E. Vest which modernized the combined cycle heat & power plant to the latest technology standards on the market and reduced the emissions. The project, valued at over EUR 1 million, was executed in just 8 months' time despite COVID-19 driven remote-working conditions and high complexity. The acceptance tests and final delivery were done as scheduled, in the last months of 2020.
The CHP plant can be operated by the new systems fully automatically, choosing according to consumers' needs, either an electrical or a thermal mode. These processes translate into a constant heat and hot water supply and increased comfort for Bucharest's inhabitants. C.T.E. Vest ensures the district heating for 6 of Bucharest's important neighborhoods, Drumul Taberei, Giulesti, Crangasi, Militari, Politehnica and Valea Cascadelor.
"With this investment C.T.E. Vest has extended the plant life with 10 years without major unscheduled downtime. This contributes to financial savings and enables ELCEN, the owner of C.T.E. Vest, to approach future opportunities in this area.", said Adrian Tudora, Director Project Development and Implementation Director at ELCEN.
Using Yokogawa Centum VP control system and ProSafe-RS safety system, an integrated solution was put in place which increased the power plant capacity, stability and removed points of failure. The plant units were automated to ensure a high degree of flexibility in responding to fluctuations in demand and to enable automatic plant start-ups and shutdowns.
Furthermore, upgrades of the Alarm Management system in case any incidents occur and advanced Cybersecurity program with an automatic back-up and recovery solution were put in place. One important benefit of the project accomplished by Yokogawa is improving the energy efficiency of the gas compressor which varies between 0.5 and 1MW/h, depending on the operating requirements. The project is a real-world reference of Yokogawa's Turbine Control solution applied to a Škoda steam turbine by means of reverse engineering, highlighting the company's expertise in turbo-machinery control.
"We are very honored to be the main contractor of this important project. The implementation was successful, and the work was delivered on time thanks to the confidence given by C.T.E. Vest management to the Yokogawa team. Yokogawa's Corporate Philosophy to contribute to society through broad ranging activities in the area of measurement, control and information is  brought into reality by this project, by contributing to a sustainable supply of heat for the inhabitants of Bucharest", said Yuko Iizuka, Country Manager, Yokogawa Romania.
The project team included software and hardware engineers from Yokogawa Romania and very supportive personnel from ELCEN – C.T.E. Vest. A major challenge in deploying the system was the COVID-19 pandemic, when all work moved to virtual space. Special protection measures were taken in order to ensure team members' safety and to avoid communication and commissioning disruptions. The team relied on remote support of Yokogawa world-wide branches from Czech Republic, USA and Australia.