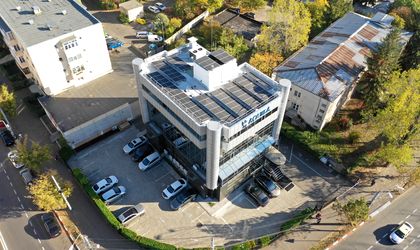 AQUILA, the market leader in the field of integrated distribution and logistics services for consumer goods, in Romania and the Republic of Moldova, with almost 30 years of experience in this industry concludes a long-term partnership with Hama, European leader in IT and Communications accessories.
Through this partnership, AQUILA will develop a  complex logistics solution, dedicated to Hama Romania, for 1,500 "pick by light" locations, modern technique for order preparation, already available in the company's warehouses. Part of the logistics model, AQUILA will invest in the development of a new digitization and automation component, which will allow the expansion of services in the coming years.
Răzvan Bagherea, Director of Organization and Human Resources, AQUILA:
"AQUILA pursues operational excellence through efficiency and sustainability, and the partnership with Hama aligns with the assumed objectives and also contributes to the development of the client portfolio by expanding the available logistics operations. The high level of digitalization of the logistics services mattered the most in the conclusion of the partnership. The newly developed logistics model will contribute on the long term to making the supply chain more efficient for partners and will create new business development opportunities for AQUILA."
The collaboration will take place in the company's location in Dragomirești Vale, within a warehouse of over 8,000 pallet locations and will include a high number of *SKUs (over 4,000). At the same time, by installing a high-performance video monitoring system and a metal detector in the access area of the warehouse, we will provide a high level of safety in terms of goods security.
The two companies will implement in their collaboration solutions to reduce the impact of cardboard packaging.
Dana Năstase, General Manager Hama Romania:
"The partnership with AQUILA came at a time when the values of both companies coincided in a direction of continuous development and a permanent concern to respond to the requests of our partners, to provide the best performing distribution and logistics services. We are convinced that this collaboration will be a long-term one, with multiple benefits for both sides."
Hama – the largest German brand of accessories, with activity in Romania since 2008, has a portfolio of over 18,000 products and has over 2,500 employees worldwide, of which 1,500 at its headquarters in Monheim.