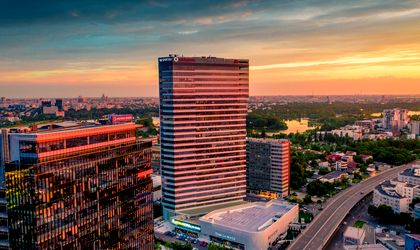 Around 95 percent of Globalworth's properties in Poland and Romania have received green certifications, with trackable benefits for tenants and for the local economies. The company is also developing community support initiatives, having allocated EUR 1.3 million for such projects in 2021 alone.
By Ovidiu Posirca
The company's approach to sustainability is similar for Romania and Poland, but the solutions are not necessarily the same because each building is different, says Dimitris Raptis, the CEO of Globalworth Group.
"Globalworth Square, for instance, is a building we developed from scratch ourselves, so we were able to implement innovative technologies such as the geothermal and ice storage systems. For older buildings, we need a different approach both on the sustainability front as well as on technology and customer experience. It also depends on the market and tenants' demands," the executive explains.
In Poland, the company is preparing to launch the Globalworth App, which will allow tenants to easily enter a building on foot or by car, book meeting rooms or control the climate in office spaces.
"Sustainability is not just about being green and friendly to the environment. It is a broader topic that also has to do with what we give back to the communities in which we operate. We have introduced energy-friendly initiatives and we're also involved in other areas such as helping disadvantaged communities through educational causes. The Globalworth Foundation is very active in both countries," says Raptis.
Sustainability includes diversity in the workplace, a safe working environment, and proper corporate governance. All these indicators are measured and reported on annually by the company.
As for demand around green buildings, the CEO notes that tenants expect to have the best features and solutions available to lower energy bills in an environmentally-friendly way. The obvious way to prove this is through certifications. They also look for solutions such as electrical or scooter charging stations, as well as bike racks. These have been around for years as amenities that every building should have.
"For me it is paramount for a landlord to be close to the tenant and be able to address their issues and concerns very quickly and, when possible, proactively. We have more than 60 people doing property and asset management across the two countries," Raptis says.
Direct property management
Globalworth's strategy is to oversee the bulk of its activities in-house, so it directly manages almost 97 percent of its office and mixed-use projects.
"As such, our team's performance is key to the success of our business and to creating long-term sustainable value for our shareholders and other stakeholders," the company wrote in its annual sustainable development report.
Globalworth employs 248 people, most of whom are based in Warsaw and Bucharest, with a balance between genders.
Enhancing the competitiveness of buildings through energy-efficient solutions
Green financing is a priority for Globalworth, which secured an EUR 85 million loan from the International Finance Corporation (IFC) in mid-2022 for investments in Romanian projects. This was the first loan the company obtained since its inaugural green bond in 2020.
The company sees investments in energy-efficient properties as a business advantage and a part of its broader preparatory actions for nearly zero-emission buildings (nZEB). These are buildings that have very high energy performance while maintaining a very low level of energy usage.
Last year, Globalworth certified or re-certified 38 properties with BREEAM Very Good or higher certifications. Across Poland and Romania, the company had 55 green-certified properties, valued at EUR 2.7 billion at the end of last year. The Globalworth Square office project in Bucharest obtained a BREEM Outstanding accreditation, with a 99 percent score, placing the building in third place worldwide.
Engaging local communities
Globalworth has taken a diversified approach to investments in the development of communities, ranging from education to entrepreneurship. As a backer of technology in real estate, the company has invested EUR 4.4 million in two venture capital funds that focus on innovative startups in Romania and the wider region. Elsewhere, the company backed a project that supports online learning and developed a Hi-Tech Learning Centre for students at the University of Architecture and Urbanism in Bucharest.
Strengthening links with local suppliers
The company points out that its supply chain comprises a diverse range of service providers and business partners, from small businesses to multinational companies. Globalworth collaborates with around 1,300 third-party suppliers, of which approximately 50 are considered to be "significant" for daily operations and the results of the property and asset management activities.
Last year, the company paid out EUR 149.6 million to its suppliers, which included builders and contractors, facility managers, as well as architects and building planners. For corporate services, the overall payment budget stood at EUR 10.7 million in 2021.
Also in 2021, the company generated direct economic value of EUR 219.4 million, of which the distributed value was EUR 209.3 million. In its annual report, Globalworth acknowledged the fact that one of its biggest challenges is to "effectively address the evolving office and industrial trends on the market and be able to provide the 'right' type of spaces to our existing and potential occupiers." This comes on top of increased uncertainty caused by disrupted supply chains, high inflation, rising energy costs, and the ongoing war in Ukraine.