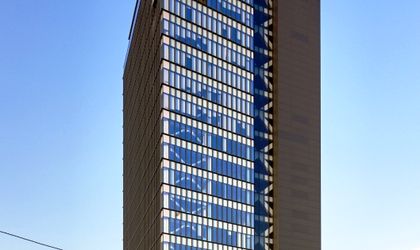 Globalworth, the real estate company listed on London Stock Exchange, recorded a 161 percent increase in net operating income in 2018 compared to the previous year. Following the continuous expansion, both in Romania and Poland, through the completion of acquisitions, development projects and the conclusion of new partnerships, the net operating income registered by the company increased to EUR 133.4 million.
The total leased surface of its portfolio reached 1 million square meters and its value increased by 35.6 percent to EUR 2.5 billion, of which 51 percent in Romania and 49 percent in Poland.
"2018 was an extraordinary year for Globalworth, a year in which the company continued to grow at a rapid pace, both through income-generating investment as well as development projects. And this is also evident in the significant increase in financial results, both within the portfolio of Romania and Poland. We are proud to have positioned Globalworth as the central institutional office owner in Central and Eastern Europe with a top quality portfolio, supported by a strong team of experienced professionals. Considering the investments we have in the plan and the fact that, from our point of view, the market prospects are convincing, we are ready to take important new steps in our evolution in 2019," said Dimitris Raptis, Deputy CEO and Chief Investment Officer at Globalworth.
In 2018, Globalworth completed acquisitions of a total value of EUR 538 million, including five investments in Polish buildings and three land acquired in Bucharest, where the company plans to develop new office buildings. Globalworth also negotiated the acquisition or expansion of 121,800 square meters of commercial space in Romania and Poland, of which 67,900 square meters are new rents or extensions and 54,000 square meters of renewals.
With regard to the development of already started projects, the company completed both the Globalworth Campus phase A, with the Tower II delivery and Renault's new headquarters, adding to the portfolio of 70,500 square feet of office space. Construction of the last office building in Gobalworth Campus, Tower III, with an area of ​​34,800 square meters, is in full swing and is due to be completed in T4-2019, which is 60 percent leased since the end of 2018 or under rental.
In addition, the company also started work on two new projects – Globalworth Square office building, with an area of ​​26,400 square meters, and a unit of 17,700 sqm in the industrial park TAP II in Timisoara. Next, Globalworth aims to expand its portfolio by another 76,000 square meters of new office projects in Bucharest and up to 150,000 square meters of light industrial and logistics projects in Timisoara.
At the end of 2018, properties with Green certifications accounted for 71 percent of the company's portfolio, with growth potential up to more than 100 percent, as some of the properties are currently under certification.
In 2018, Globalworth also launched a EUR 550 million Eurobond issue in March, which was overwritten twice, and in June Globalworth Poland completed its EUR 450 million capital increase to support continuous portfolio expansion. In the latter, EUR 300 million was subscribed by Globalworth and EUR 150 million by Globalworth's largest shareholder, Growthpoint Properties.
After a dynamic year in which the company strengthened its leading position in Central and Eastern European offices, Globalworth continues to evaluate new high-quality investment opportunities. In view of these investment plans and the goal of maintaining a long-term LTV of below 40 percent, Globalworth will look for new opportunities in the near future that will allow it to accumulate an additional capital of up to EUR 500 million.