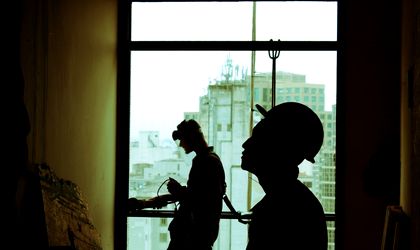 It is not unusual for workers to seek stimulation during their work day, whether they work in an office or on an active construction site. Regular breaks and socialising with other workers can do a lot to make a workplace more pleasant and engaging – but there are ways to improve stimulation at work even when everyone is busy. The provision of music on an active work site can be hugely beneficial for a number of reasons – but requires the right supervision to be safe.
The Pros of Introducing Music to Active Work Sites
Improves Morale
The first, and perhaps most obvious, benefit to allowing workers to listen to music onsite relates to morale. Music is a creature comfort for many, and presents a non-invasive way to make a worksite more comfortable for all present. It can stave off boredom in providing an engaging backdrop to work to, thus making workers happier on-site.
Sets Pace
Music is also a powerful way to unite a workforce into the same working rhythm, and to stimulate productivity as a result. Up-tempo music with a solid beat can set the pace for activities, having workers adjust their working speed to the 'speed' of the music and improving overall productivity as a result.
Improves Information Retention
There are other cognitive benefits attributed to listening to music while working, beyond the emotional and physical effects described above. The presence of music has also been proven to improve knowledge retention, enabling quicker and more effective communication of project-specific information. Music also presents benefits to the induction of new workers to a site, allowing for swifter and more robust on-site training.
Health and Safety Considerations
For all its benefits to the workplace and to the health of individual employees, introducing music to the workplace also comes with health and safety ramifications. Excessive volume, or prolonged exposure to noise above 85dB can cause hearing damage – an unlikely outcome from the provision of a workplace sound system, but one to consider if music will be competing with loud power tools.
More importantly, music of a certain type or volume could form a distraction as opposed to a focusing aid – leading to lower quality results and increased risk of injury. Active worksites are already high-risk environments, and clear communication is key to maintain a safe environment while carrying out dangerous tasks. Music could make communication difficult, leading to misunderstandings and a higher likelihood of accidents occurring.
Drafting Effective Policies on Music in the Workplace
Of course, the above concerns can be adequately addressed with the formulation of a robust workplace policy for introducing music – allowing both employer and employee to receive the benefits without unnecessarily increasing risk.
Providing a cordless Milwaukee radio can ensure no trip hazards are introduced to the workspace, and prevent other employees from bringing less suitable sound sources in to the workplace. General guidelines can be set regarding radio station and volume, to ensure volume doesn't creep above acceptable levels.