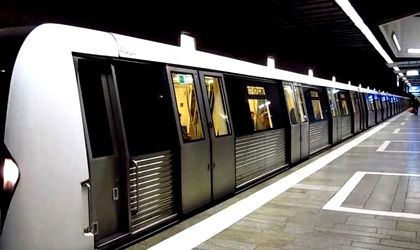 Works on Line 5 of the Bucharest metro network are 87 percent complete, and passengers will be able to travel on this line starting in the second part of next year, according to a statement made on Wednesday by Metrorex general manager Dumitru Sodolescu.
"The overall completion rate for Line 5 is 87 percent. To give some detail, the infrastructure part will be finished by the end of this year, except the link between the Drumul Taberei station and the 41 tram line, which will be done in Q1 next year, and so will the link between Eroilor 1 and Eroilor 2 stations," Sodolescu said.
He added that the finishes will also be ready by the end of this year.
"The issue that is delaying Line 5 is related to the automation and traffic safety system. One of the bidders challenged the auction in court, their challenge was rejected and there's an appeal scheduled to begin at the end of this month. We hope that it will be over soon and that's when we will sign the contract with the winning bidder and start projection and execution works for the system, which will take nine months," he said, adding that he will try to reduce this deadline if possible.
The first section of Line 5 will be 6.8 km long, with a depot and ten stations: Eroilor, Academia Militara, Orizont, Favorit, Tudor Vladimirescu (Drumul Taberei 34), Parc Drumul Taberei, Romancierilor, Valea Ialomitei, Brancusi and Raul Doamnei. Two more sections of this line are planned for the future: Eroilor-Iancului and Iancului-Pantelimon.
The total cost of the construction is estimated around EUR 3.12 billion. The construction is carried out by a consortium including Astaldi (Italy), FCC (Spain), Delta ACM and AB Construct (Romania). The project is financed through non-reimbursable funds in the Transport 2007-2013 Sectorial Operational program and the 2014-2020 Large Infrastructure Operational Program.