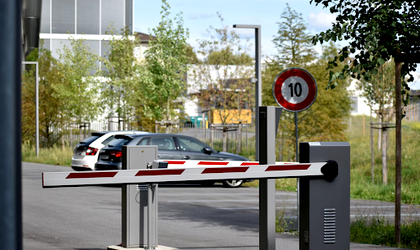 An automatic security gate offers plenty of value in terms of privacy and peace of mind, and as such, it is becoming increasingly common at various offices, residences, and commercial establishments. 
Given the wide range of options and varying price points, however, it is easy for consumers to struggle with indecisiveness, especially given the high cost and long-term implications of such purchases.
There are a lot of factors to consider before narrowing down to the right automatic security gate for your residence or place of business. This includes the materials, technology, features, installation, support, and more. 
For first-time buyers, this can all be quite daunting, but in this article, we dive deep into the subject and offer certain key considerations, tips, and best practices to get you moving.
Understanding Security Requirements
The sole purpose of an automatic security gate seems quite straightforward, that is, preventing intruders from walking in and protecting life and property inside the premises. However, it is essential to consider other factors, such as the frequency and nature of criminal activity in the surrounding vicinity and the security measures required to counter the same.
Understanding the threat matrix is crucial before planning any security measures; if not, even the most extensive security infrastructure will fall into neglect and disuse. For example, in cities like Dubai and Singapore, with very low instances of violent crime, most apartments lack a gate or even a security checkpoint upfront, as including such measures will only serve to annoy residents in these cities.
Once you have a clear understanding of your security requirements and where exactly an automated security gate fits into the equation, it is time to consider other practicalities. This mainly includes the ideal size of the gate to meaningfully deter intruders, in conjunction with the space available for installation at the best possible location.
Decisions taken will have long-term implications; for example, a large, heavy gate will take time to open and close and is thus unsuitable for buildings that receive high traffic volumes. 
Similarly, large gates eat into prime real estate when placed without due consideration and consume a lot of energy, which may not be worth the safety and security that access control systems provide.
The make and materials of the automatic gate matter a great deal when ascertaining its sturdiness and ability to withstand blunt force. Beyond this, the material used must be conducive to the broader climatic conditions of the region. Coastal areas with high moisture content in the surrounding air will not take well to iron, increasing the possibility of weakening and rusting fairly quickly.
There are certain gates made specifically for extreme weather conditions, capable of withstanding heavy storms and rainfall or high temperatures during the summer in a desert. 
As a buyer, it is essential to take expert advice in this regard to ensure external variables don't undo your expensive security measures while also factoring in the cost and depreciation value of the automated gate.
The market for automated gates still remains broadly unorganized, with exorbitant margins and massive price differences depending on the contractor or service provider. To get the best deal, make sure to shop around and find the prices of different products and brands from a number of different dealers before narrowing down to the cheapest option.
Buyers can further consider buying components and hardware parts from different locations, based on their prices to make the most of the deals available. 
An example of this would be to buy the slide gate operator from a certain reseller, and the gate itself, along with other accessories from another. Being expensive, high-margin equipment, the cost-savings can be substantial for a bit of additional effort.
Final Words
An automated security gate can enhance the security of your building manifold while creating just as many issues if not planned right. By working with the right consultants and contractors, you can ensure that you get the best bang for your buck and a system that adds value for years to come.