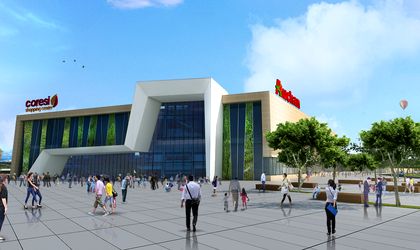 French retailer Auchan, which runs 9 hypermarkets in Romania, will open a shopping mall in Brasov at the end of 2013. The company will invest EUR 55 – EUR 60 million in developing the first phase of the Coresi Shopping Center project which features an Auchan hypermarket (16,000 sqm), a shopping mall (25,000 sqm of gross leasable area) and a parking with 3,000 places, according to Mediafax newswire.
The mall will be located on the grounds of the former Tractorul industrial platform. Construction of the shopping mall will begin this year and it expands over 24 hectare of land out of the total 100 hectares which Auchan bought.
Earlier this year Auchan has officially announced that it will invest in developing two shopping galleries in Romania between 2012 and 2013 under the Auchan City concept.
The first shopping mall will be located in the Giulesti neighborhood on a piece of land purchased from the Grantmetal factory and could be opened by the end of December following a EUR 15 million investment, according to media reports. The project will include a 5,000 sqm Auchan City hypermarket and a 2,000 sqm shopping gallery.
The second project will be built in the Ghencea neighborhood on the grounds of the Tricodava industrial platform and will feature an Auchan City hypermarket with a 11,000 sqm surface and an additional 100 stores.
The development of Auchan's real estate projects will be handled through Immochan, Auchan Group's property management division, a subsidiary of which has been recently created in Romania also. Immochan manages 320 commercial centers in 12 countries.
The Auchan Group is controlled by the Mulliez family, one of the wealthiest in France. Gerard Mulliez opened the first store in Roubaix (Northern France) back in 1961. The Mulliez family has interests in a large number of companies including Decathlon, Kiabi and Pimkie.
The company counted 1,375 hypermarkets and supermarkets in 12 countries at the end of 2011 and it employs 262,000 people.
Simona Bazavan