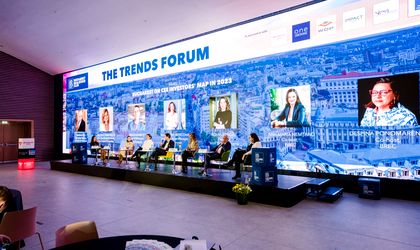 Urban blockage, bureaucracy, and the lack of transparency of local authorities represent the main problems the real estate market in Bucharest is facing in 2023, as revealed by the BREC study presented yesterday at THE TRENDS FORUM event.
The economy of Bucharest and the surrounding area is larger than that of Croatia, Lithuania and Slovenia, and comparable to that of Bulgaria. Despite this development, new investments in modern and safe real estate projects are affected by the uncertain urban planning climate.
Among the investors' demands are "predictability through legislation, clear procedures and timeline", as well as "clear and simple steps for obtaining building permits". The data of the last census indicate a minus of 166,400 people in Bucharest and a plus of 153,900 people in Ilfov. The trend to build more in Ilfov will intensify in the coming years, despite the lack of infrastructure to support the growing traffic.
"Bucharest is the country's most vibrant city, growth engine, main investment destination, and key innovation hub. Limiting access to homeownership by limiting new built, pushing the purchase of inventory that is too old and potentially unsafe, or pushing buyers across city borders without significant infrastructure investments is ultimately detrimental to society ", says Despina Ponomarenco, President of BREC.
—
"German investors have Bucharest on their radar, but we need to see a clear improvement in quality of life, new infrastructure and retaining the local workforce. Particularly, in Bucharest everybody is waiting for a solution on the actual urbanistic issue", said Sebastian Metz, General Manager, AHK Romania (German – Romanian Chamber of Commerce).
On the residential sector, given the permitting impasse, investors consider 2023 could show signs of a strong owners' market, with increased housing rents.
The office sector will be characterized by a limited new offer of approx. 115,000 sqm in five buildings. Given the rising value of ESG, investors expect a greater contrast in favor of green and energy-efficient properties.
As restrictions ended, the retail sector witnessed in 2022 traffic values over pre-pandemic levels. In Bucharest, the focus remains on proximity retail, given that the only mall in the works is the Promenada Mall expansion project.
Industrial is regarded as the best performing real estate asset class for 2023. Bucharest remains the main destination this year as well: 40% of the new stock of 550,000 sqm scheduled for delivery this year represents projects from the Capital. The new A0 ring road will reconfigure logistics hubs. In addition to the North-West area, in 2023 we will witness the growth of the South area.