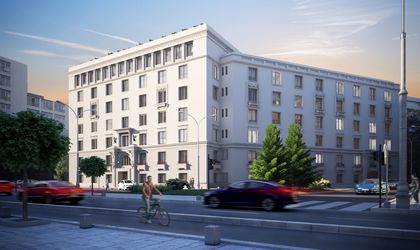 Real estate developer Hagag Development Europe will deliver this summer, in June or July, its first Romanian project, Victoriei 109, a boutique office building located in Bucharest's Victoriei Square. The company has three other projects in different phases of development and intends to invest another EUR 100 million on the Romanian market this year.
The company is looking for land and buildings, located in interesting areas of the city, and is scanning the market for these kinds of properties, Andreea Hamza, the company's head of marketing and sales, told BR.
Last year, the company acquired former Petrom buildings Victoriei 109 and a second edifice situated on the same artery at no. 139, and launched H Eliade 9 Residence and H Pipera Lake, the EUR 90 million investment close to lake Pipera, a 1,350-unit residential scheme.
"We will finalise Victoriei 109 in June or July with and EUR 8 million investment. For the other projects, we are expecting to obtain construction permits in April for H Eliade 9 Residence,  in the nearest future  for H Pipera Lake and start construction this quarter and, hopefully, in a few months we'll get the permit for luxury residential project Victoriei 139," says Andreea Hamza.
H Eliade 9 Residence will be developed in the Primaverii District, on Mircea Eliade Blvd, on a 2,000 sqm plot. The assembly will have a total built area of ​​approximately 6,000 sqm. The project accommodates 35 exclusive apartments, serviced by 70 underground and ground parking spots. Around 15 percent of the apartments in the project have already been reserved.
The developer has also booked 10 percent of H Pipera Lake, EUR 90 million investment in Pipera, and around 20 percent of the EUR 6 million investment luxury residential project Victoriei 139.
According to Hamza, the company is also interested in street retail, and through a retail space at the ground floor of Victoriei 139, it hopes to grow its portfolio.