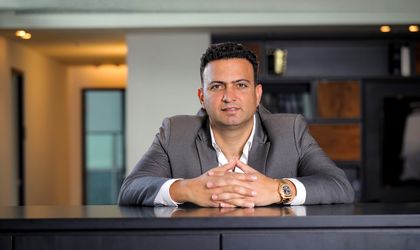 Hagag Development Europe has EUR 130 million of consolidated investment volume in its pipeline for Romania. Yitzhak Hagag, Co-founder & Controlling Shareholder at Hagag Development Europe, spoke to Business Review about the status of the company's five ongoing developments in Bucharest and its future plans for the local real estate market.
By Ovidiu Posirca
How is your largest residential project so far, H Pipera Lake, evolving in terms of completed units and when do you estimate the full delivery?
It's going quite well. We have already completed and delivered the first phase comprising five residential buildings with 435 units and complete infrastructure, including a first playground on the lake shore.
By the time we finalized the construction works, all units were sold out. Currently, we are undergoing the planning and design stage for phase two, where we will deliver the next five buildings and a total of 410 apartments, of which more than 50% have already been booked. We are looking forward to breaking ground as soon as possible. If everything goes as planned, we expect to receive the building permit for the commercial component of the project by the end of 2023, then the green light to start works on phases II and III by mid-2024. In this scenario, we estimate that the full delivery will happen in about four years, with the retail area set for delivery by the end of next year and the residential, progressively, until the end of 2027.
What are the key aspects that homebuyers appreciate in H Pipera Lake?
Quality, positioning, and services. And when I say quality, I am referring not only to the character of the construction materials, but to the impeccable execution and the attention that we have invested in even the smallest details, from the finishes we used to the benefits of living in a safe, gated community. The mix of services H Pipera Lake provides to its residents include the Concierge or the Property and Facility Management features. Going back to positioning, I would also emphasise the fact that Pipera offers the perfect combination between exclusivity and convenience, making it a highly desirable location for both singles and families, as well as for working professionals.
What is your strategy for the services mix you provide for your residential community?
Our primary purpose is to create value: for our residents and tenants, for our industry, for the city. As real estate investors-developers we are partly responsible for the quality of life of the people living in our buildings. And I believe that what allows us to deliver a product beyond expectations is our drive and commitment to customer experience and journey, to excellence and innovation, together with our desire to build and grow sustainable communities that reshape and renew the urban landscape. We recognise the impact that the built environment has on people's lives, but we are also aware that in order to stay relevant in today's dynamic market, we need to offer more than just soulless spaces. We need to upscale and enhance the living experience.
To do this, we are always ready to go that extra mile, regardless of whether we are talking about the premium and upper-premium projects or about the medium market segment. And as we concentrate our efforts into inspiring our clients to think differently, encouraging them to demand more, we directly manage all the common spaces in the complex in order to secure a durable living environment and assist our overseas investors in efficiently managing their properties, while our concierge team helps our residents save time by taking a series of quotidian and repetitive tasks off their hands, presenting them with the best solutions and a comprehensive catalogue of verified, trusted providers.
What is the development status on the H Stirbei Palace project in Bucharest?
We are making all the necessary preparations to start the construction works as we speak. We have already informed the municipality about our intentions, the general contractor is ready, and my bet is that by the time this interview will have been published, the scaffolding might already be installed on the palace's façade.
How has the market received H Private Arghezi, your first private office development? What is the current occupancy rate? Do you have further investment plans in this niche?
Very well. In today's new work paradigm where the office market is recalibrating, we are seeing more and more companies looking for smaller spaces, and serviced offices that present them not only with the opportunity of enjoying a modern turnkey workspace in a building with class A facilities, but also with a flexible short-term contract and a "all-inclusive" rent that promotes a more predictable outcome over operational expenses. I believe that the ultra-central location is a big plus, combined with the history of the building and the fact that it is easily accessible from all the city's districts, no matter the transportation means one chooses, but the "one-stop-shop for business" concept that H Private offers is what tipped the scales for our tenants when making the leasing decision.
Today, we have an occupancy rate close to 75% and a demand volume that exceeds our current offer. These results are truly amazing and have surpassed our initial expectations, which is why we have decided to further expand H Private Arghezi with an additional floor (about 750 sqm). Moreover, we are already in advanced talks with several potential tenants that, if concluded, will altogether take us to a 100% occupancy for the entire surface area.
What is Hagag's development pipeline in Romania and what is the estimated investment volume that you have planned for the local market in the coming years?
We are currently working on five projects, each in different development stages. Once completed, these will deliver about 1,000 residential units, approximately 5,000 sqm of prime retail space, and around 4,000 sqm of office space. In the residential area, our attention is now focused on phases II and III of H Pipera Lake, as well as on our upper-premium boutique developments—H Eliade 9 and H Primaverii 1. In the commercial segment we have H Stirbei Palace, the retail component of H Pipera Lake, and H Vasile Lascar 5-7—the old office maze that we acquired in early 2022—which will be refurbished and upgraded. We are talking about a consolidated investment volume of over EUR 130 million for the next few years. And we are actively looking for new properties to enhance our asset portfolio, so stay close because we might be announcing some new investments soon.