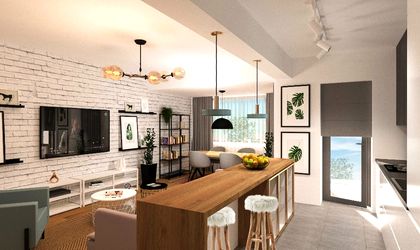 Atria Urban Resort, the residential project in the northern area of ​​Bucharest on the edge of Straulesti Lake, offers free interior design options for the first time. The developer has signed a partnership with architects and interior designers Omid Ghannadi and Alina Vilcu in the spirit of the ensemble, a different home.
Omid Ghannadi created a first concept for a three-room apartment, based on the Scandinavian style.
"If the styles are mixed together in the city, I want you to feel at home when you get away, to have an airy interior that will give you the extra energy you need to live nicely," says Omid, adding "Scandinavian design is so much appreciated and demanded because it eliminates personal taste and raises decency. The simple design of objects is a beauty that cannot be disputed. Although it can be seen as a little impersonal, the big advantage is that it offers simplicity and comfort to everyone."
The budget for implementing Omid's proposed concept is 13 percent of the value of the apartment, including furniture, home and electronic appliances and decorations. Atria Urban Resort customers will benefit from a free concept and can get the list of furniture items and suppliers from where they can be purchased so they can easily implement the new home design project. In total, the developer will offer concepts for the arrangement of six types of apartments (three for two-room apartments and three three-room).
"We paid special attention to both the concept of community planning for the whole ensemble and the landscape planning. As we approach the delivery of the first phase, we wanted to come up with a solution to make affordable apartments in terms of budget, functionality and design to save the people from working extra. By collaborating with Omid and Alina, we believe that we offer real help to Atria customers to enjoy their dream home,"explains Liviu Lepadatu, CEO, Cityring Property, an investor in the project.
Atria Urban Resort's first-stage works follow the plan, with apartments in the first block being delivered to customers in the third quarter of this year. At this time 50 percent of the first phase was sold.