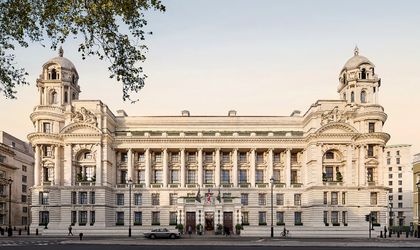 Accor announces its newest properties and upcoming destinations that guests and world travellers can look forward to visiting in 2022 and beyond. Many of the world's most exciting destinations – such as London, Doha, and Moscow – will welcome multiple new Accor hotels this year, while several Accor brands have sought out exotic, unexpected or new horizons to explore, such as Pangkalan Bun in Indonesia; Copenhagen, Denmark; and Casco Viejo in Panama City.
"Accor is a strong believer in the power of diversity – in our workforce, our client base and our brands," said Sébastien Bazin, Chairman & CEO, Accor. "We continuously introduce fresh concepts and exciting new places to discover. With more than 300 new hotels and resorts opening their doors in 2022, we are certain that each member of our vast community of loyal guests around the world will find somewhere unique to inspire their next journey."
One of the most anticipated openings of the year is Raffles London at The OWO. This architectural masterpiece, located at the historic Old War Office – the iconic Whitehall building inhabited by Britain's most famous statesmen and spies, from Winston Churchill to Ian Fleming – is in the final touches of a monumental transformation to create 120 rooms and suites, 85 unique branded residences and 11 destination restaurants and bars. Meanwhile, in northwest England, Novotel Liverpool Paddington Village will open as a beacon of hospitality in Liverpool. With more than 220 rooms among 16 stories, the new flagship hotel will stand out as the tallest and one of the most attractive gathering spots for tourists and locals in this vibrant city of music, culture, and     outstanding pubs.
The strength of Accor's network across Europe continues to be bolstered with recent and upcoming openings, such as Sofitel Barcelona Skipper, Mercure Amsterdam North, ibis Styles St. Margrethen Switzerland, Mercure Hotel President in Lecce, Italy and MGallery Cagliari Palazzo Tirso, Italy, just to name a few. Paris continues to be a market near and dear to Accor's heart, not only as the company's headquarters and for its sponsorship of the Paris Saint-Germain Football Club, but also through its support of the 2024 Olympic and Paralympic Games. In 2022, Accor will welcome new additions to the city including MGallery Issy-les-Moulineaux Domaine de la Reine Margot and greet Paris Vincennes.
Romania is a key market for Accor in the CEE region, with four openings in 2021 and two more already announced in 2022. The ibis Styles brand will mark one more addition to the family, by the launching of ibis Styles Bucharest Airport in Q2 2022, an 85 guest rooms unit, recently built in proximity of Henry Coandă International Airport Bucharest. The group will also continue to grow the Mercure network in the country, through the opening of Mercure Brașov Cubix, a 57-room facility in the heart of Romania.
Another noteworthy market for Accor in 2022 is Russia. Domestic tourism continues to grow, particularly among Russian travellers who are accustomed to international services and high standards of vacation experiences. Accor is adding to its portfolio across the country with a diverse range of destinations, including Novotel Moscow ComCity, ibis Styles Kogalym Russia and Mövenpick Resort and Spa Anapa Miracleon.
Further, Accor is excited to open its first property in Denmark – ibis Styles Orestad Denmark, on the edge of Copenhagen; the hotel marks the first step for Accor in this beautiful Scandinavian country.
Across the pond, North America eagerly awaits the continent's first Raffles later this year. Raffles Boston Back Bay Hotel & Residences, located in the city's prestigious Back Bay neighbourhood, is a 35-story building featuring 146 residences, 147 guestrooms, and six food and beverage venues, including a sky bar and speakeasy. The striking three-story sky lobby is set to be the first of its kind in Boston.
The Middle East is another exciting stronghold for Accor, particularly with the 2022 World Cup in Qatar. Accor has been selected as the official provider of accommodation for visitors of the event, providing team members to manage and operate more than 60,000 rooms in apartments and villas across the Gulf Arab state. The Group will also broaden its Rixos portfolio in Qatar and in the region overall with the upcoming Rixos Doha Qetaifan, Rixos Obhur Jeddah in Saudi Arabia and Rixos Jewel of the Creek in Dubai, UAE. Accor will also introduce many stunning new properties throughout the region including the new Raffles Doha and sister hotel Fairmont Doha, Banyan Tree AlUla in the Asher Valley of Saudi Arabia, and Fairmont La Marina Rabat-Salé.
"Accor's development pipeline is very robust, and we are delighted to bring so many projects to life in 2022," said Agnès Roquefort, Global Chief Development Officer, Accor. "Our hoteliers all over the world are eager to welcome guests to their favourite destinations, as well as introduce them to new places, in a much bigger way than we've done over the past couple of years."