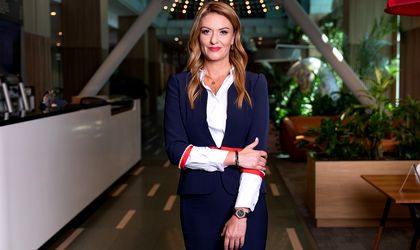 SAP Romania, the local subsidiary of SAP SE – global leader in business software solutions – announces Diana David as new Managing Director, responsible to refine and execute a renewed country strategy with clear focus to accelerate the move to the cloud and support existing and potential customers on the road of their digital transformation journey. The new leader has been appointed internally.
Diana David will assume her position from 1 June 2021 and will be based in Bucharest. She joined SAP Romania three years ago, as Key Account Manager for the public sector, previously holding various roles in the Orange Romania team, where she started her professional activity 18 years ago. She has over 15 years of sales experience, during she has managed both private and public accounts, specializing in the public sector. During her years of professional activity, Diana David gained extensive expertise in the development and management of extremely complex projects, approached on multiple market verticals, proving advanced skills in managing diverse teams. The new Managing Director of SAP graduated from the Faculty of International Economic Relations and attended PR and Communication courses for two years.
"I embrace the new role and together with my dedicated team, I am committed to bring our vast experience and best practice expertise to support the Romanian companies, as well as the government in its recovery plans to help the country achieve its full potential.", said Diana David, Managing Director of SAP Romania.  "SAP has contributed to build a strong digital economic ecosystem, partnering closely with 38 certified Romanian companies. Together with our partners, we are creating industry-specific solutions, new cloud products and dedicated programs in support of the smart industry concept. We understand that each customer has his own way and speed of change on their digital transformation journey, and with our new cloud offering, RISE with SAP, we are prepared to support and customize each approach" – she added.
—
"I am very glad that Diana has agreed to take on the challenge to lead SAP Romania to new heights. Her experience and skills have been a real gain for the company so far, and the new role gives us the opportunity to pursue her vision on a larger scale. We are confident that with her leadership style combined with her determined plans, and our experience across 25 industries, we will strengthen SAP's position on the local market, help our customers in their Intelligent Enterprise journey, and deliver value and excellent outcomes via our "Customer First" mindset. All this in the context of the digital transformation and rapid changes that characterize the current business environment", mentioned Josephin Galla, Managing Director of SAP South East Europe.
In the lights of the current times, more than ever, SAP reiterates the need for digital transformation, both for the private and public sectors. Areas such as procurement, sales or marketing require a complete overhaul based on the new online reality, while the human factor also plays a key role, and companies must rely on providing superior experiences to both employees and customers. Thus, in the next period, SAP aims to continue to represent a strategic partner for current and potential customers and offer the best digital solutions to meet the new requirements and enhance innovation potential at these companies.
At the same time, the company will focus on providing support to government customers, in order to reform their administrations through digital means. SAP is aiming to be a trusted advisor for reaching objectives such as modernizing the medical system, developing smarter cities and improving the digital skills of the population.