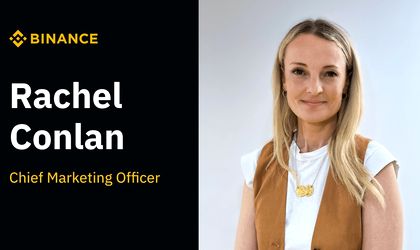 Binance has announced that Rachel Conlan, the Vice President of Global Marketing, will take on the role of Chief Marketing Officer (CMO). This announcement comes in the context of new executive appointments, including Eleanor Hughes as General Counsel, Kristen Hecht as Deputy Chief Compliance Officer and Global Anti-Money Laundering Officer, Min Lin as Director for Latin America, and Richard Teng as Director of Regional Markets.
"Our leadership team is essential to making a positive impact that resonates throughout the broader ecosystem and aligns with our user-focused mission. Rachel exemplifies this. Our team is stronger than ever, ensuring we are a responsible leader in the industry," said Changpeng Zhao, CEO of Binance.
Rachel will continue to oversee and manage Binance's global and regional teams. In the coming months, she will launch a new series of global campaigns and expand partnerships with online influencers (KOLs). Through her crypto education initiatives, Rachel will contribute to Binance's broader efforts to strengthen the industry and drive increased crypto adoption.
Rachel is at the helm of Binance's current innovative campaigns, including those with The Weeknd, Cristiano Ronaldo, and Alpine Formula 1. Leveraging her prior experience as a Senior Manager at Havas and CAA, she is exploring additional innovative initiatives. Rachel's focus is on attracting world-class marketing talent to bolster the organization as it enters its next phase of growth.
Binance is the global leader in the blockchain ecosystem and cryptocurrency infrastructure provider, offering a suite of financial products including the world's largest digital asset exchange by trading volume. Trusted by millions worldwide, the Binance platform is dedicated to increasing the freedom of money for users and features a unique portfolio of crypto products and offerings, including trading and finance, education, data and research, social good, investment and incubation, decentralized solutions, and infrastructure, and more. For more information, visit https://binance.com/.