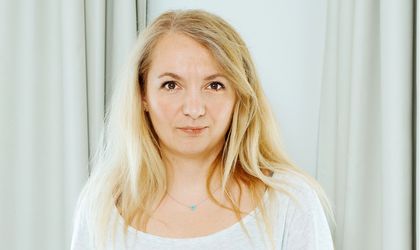 Starting last month, Alina Buzatu is Jam Session Agency's new Head of Strategy. Her past and experience, along with the natural alignment of their core values, have the agency's representatives believe that she is simply the best choice for the position.
By Romanita Oprea
Therefore, Alina will integrate and strengthen the skills of digital planning, creative planning, business planning, and omnichannel planning that the agency already has. The measure of success for a creative strategist is in line with the market need: clarity, impact in sales. And an additional ingredient is added: the final outcome has to be a creative one.
In this context, Andreea Ghenoiu, Creative Partner, said: "At Jam, we have built our backbone around the idea of making an impact through creativity. Our daily ambition is to bring value to our clients' businesses, to understand the products and services we work for, to grasp the real needs of people, the economic and social context, as well as digital, technological, and pop culture trends. Why? To incorporate all these aspects into spectacular omnichannel communications that build brands and touch people."
"It is a creativity machine that never stops, with strategy at its core. On one hand, we have clients who operate in a highly fragmented and competitive market and need clarity and quick response to market changes. On the other hand, we have an audience bombarded with messages, an audience that is increasingly resistant to advertising consumption," continues Vali Suciu, Co-Founder & CCO.
At Jam, they realized that you cannot develop and be competitive without investing, so they started to invest: in people, in the workspace, in strategy tools, and in business extensions for CRM, SEO, and digital content production. This led them to the point where they realized that they still needed steroids in terms of clarity and quick business understanding. They needed an experienced and curious individual in love with creativity, and a natural desire to guide others and provide clarity in the process. The position of Head of Strategy naturally emerged because they have built a large and valuable strategy department with skills in business, media, creativity, and integration.
"I grew up in Constanța, where I learned some valuable life lessons in exchange for doing homework for the cool kids. I have a degree in Communication and Public Relations from the Faculty of Letters in Bucharest and an Erasmus scholarship at the University of Arts in London. I later returned to the Faculty of Letters for my master's and doctoral studies in philology. I started my advertising career at a small agency called Sister & CO, then moved to Grey, where I had the opportunity to work with people who trusted me with major brands and regional accounts. When I started missing the agility provided by a non-network structure, I joined Rusu+Borțun and, later, Friends\TBWA. Over the course of 16 years working in the strategy area, I have been involved in research, briefs, and strategic directions for numerous accounts, starting with Bucegi beer, Supradyn, P&G, Romtelecom, Vodafone, MoneyGram, Bancpost, Coca-Cola, Children's Phone Association, Goodmills, Absolut, Virgin Radio, Europa FM, Caroli, Bergenbier, Friends for Friends Foundation, Angelini, Danone, BAT, Reckitt Benckiser, Ikea, and many others," said Alina Buzatu.
Moreover, when it comes to her hopes and expectations for the new position, she added:
"I aspire to contribute to the agency's culture, with all that it means, the team, brands, and processes. I aim to assist in the development of the strategy team and learn as much as possible from a transforming structure. I may not yet know how the coffee machine works, but I quickly realized that in the strategy department, I have very talented and smart colleagues with great insights. Also, it took only a few meetings with the management team (Alexandra, Andreea, Ioana, and Vali) to realize our compatibility. They are highly valuable seniors, open to new ideas, embracing all the imperfections that come with it, and eager for campaigns that go beyond the strict logic of commerce."
In 2021, Jam Session we won the Agency of the Year title at Internetics. The Jam partners' team achieved the first gold at Cannes Lions for an independent agency in Romania (Jazz Communication), another Silver Lion in the following years, and nine shortlist entries, along with numerous awards at local and international festivals: D&AD, SABRE, Golden Hammer, Effie (Grand Effie and dozens of Gold, Silver, and Bronze awards), Internetics, Webstock, and numerous Romanian PR Award distinctions.