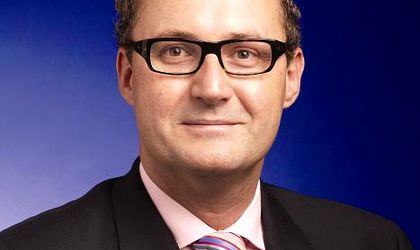 Properly managed, integration can reduce the need for costly re-hospitalization and prevent service duplication, says Mark Britnell, global head of the healthcare practice at KPMG. He talks to Business Review about the steps Romania has to take in this direction.
Anda Sebesi
What does the process of integrating medical services mean?
Integration is defined as coordinating services among healthcare providers through formal or informal means. It ranges from informal coordination among healthcare providers (e.g., among hospitals or between hospitals and primary care physicians) to a structured linkage of several parts of the system, such as through an umbrella organization that encompasses hospitals and other providers. The future shape of healthcare integration depends on where it occurs, because of differences in countries' health system structures and policies.
What are the main benefits?
Properly managed, integration can bring about a healthier population and save money. It can also help minimize hospitalizations, reduce the need for costly rehospitalizations, and prevent service duplication. While cost and changing demographics are almost universal drivers of integration, their significance differs between developed and developing countries. For example, 52 percent of the respondents from developing countries of The Future of Global Healthcare Delivery and Management survey conducted by KPMG,  rank rising healthcare costs as a top driver of integration, compared with 43 percent of respondents from developed countries. Alignment among healthcare providers on quality and cost goals is essential for integration to succeed. Bundled payment, where hospitals and doctors share a single fee, is a model designed to encourage alignment. Another is gain sharing, in which savings generated by integrating care are divided among providers.
How do you see the process of implementation working in Romania?
Strong national-level leadership can help reconcile the competing goals and priorities of the individuals and organizations involved in healthcare provision. It is a challenging time for the local healthcare system, because the government needs to address the challenge of high debt and budget deficits, as well as the aggregating chronic problems of the past. Because rising costs have an immediate and significant impact on government-funded healthcare programs and systems, national governments are generally at the forefront in pushing integrated care. Romania follows the European Union agenda, set in May 2010, which requires a minimum common set of patient data that would make electronic patient records, accessed or exchanged across member states, interoperable. The plan also calls for pilot projects to equip Europeans with secure online access to their health data by 2015.
At international level, according to the KPMG study, significant steps can be made towards the integration of medical services. What is the situation in Romania?
The survey findings reveal that hospital organizations worldwide are purchasing, or creating alliances with, physicians' medical practices and with other providers. Integration efforts in healthcare are at an early stage, yet some pilot projects have used it successfully to reduce costs and improve quality. Although survey respondents are optimistic that change will occur quickly, the feasibility of a five-year time frame for a deep shift is open to question.
What are the main factors that will stimulate the integration of medical services in emerging markets such as Romania?
The challenges facing emerging markets, where large portions of the population are moving into the formal economy for the first time, are different from those of poorer countries that struggle to meet the most basic healthcare needs. I mentioned earlier the respective figures regarding the evaluation of rising healthcare costs as a top driver of integration. Chronic disease, by contrast, is more likely to be considered important in developed countries: it was cited by 27 percent of those respondents compared with just 6 percent from developing countries.
How will the government be involved in the process?
Governments are intimately involved with healthcare worldwide, although their role differs among countries. They act as regulators in most parts of the world. Governments can also pay for and/or provide healthcare. Survey respondents, however, rank government policies as among the top hindrances to integration today. Still, they expect national, state, and regional governments to lead the way in the next five years. This is especially true in developing countries, the KPMG survey shows. The government needs to encourage the use of electronic health records (EHRs), which are regarded as an important tool in coordinating care effectively among providers. Also, proponents of integration recognize that governments worldwide already play an important role in their country's overall healthcare system and argue that they should take the lead in expanding these pilot projects to implement integration more broadly.
What do you think will be the main factors that will improve the performance of the healthcare system in Romania?
Countries have different funding and payment systems reflecting both cultural and political differences which range from socialized insurance and state-run provision to private cover and supply of healthcare. This diversity makes meaningful comparison of incentives difficult to ascertain on a global scale, but it would appear that clear clinical objectives, when coupled with full professional accountability and linked to well-defined incentives, can deliver high-quality and cost-effective care.