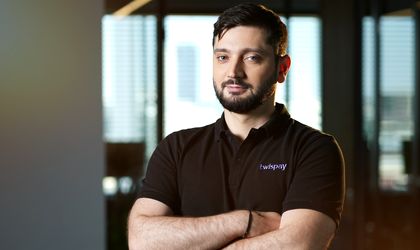 Fintech is often associated with the future, with tools and technologies meant to make transactions smoother, faster, and cheaper in the following years, even decades. Still, while thinking about the future, we shouldn't neglect that this industry has become an essential part of everyday life, impacting everything from how we pay for products and services to social relations, how we handle our finances, and the relationship we have with money. 
By Augustin Dobre, CEO Twispay
In this context, understanding what fintech already brings to the table and its vast potential is crucial for mastering the present and making the most of opportunities. This is why, in this article, I will share 3 trends that define the current fintech landscape and how users resonate with financial brands. 
Social finance is on the rise
There's a whole conversation about social+ companies – brands that transform a particular product or service into a social experience where users can engage with one another and foster connections. We've seen this, particularly in the gaming and fitness industries. Apps like My Fitness Pal or Map My Run enable us to share content with our peers, see their daily menus and runs and post our progress on social media. 
Based on experience, I can state that some of the world's most successful products have a social component, as they bring together functionality and community building. Such an approach helps users stay more engaged, spend more time in the app, find motivation and feel like they are part of something bigger. 
In this context, finance should be no different. Once a taboo for Generation X and the Boomers, now money is a frequent conversation topic for Z-ers and Millennials. What shaped their mindset was the emergence of social media like Reddit, Twitter, Quora, and TikTok, where people post everything from investment advice to their salaries to give their communities more power and leverage in their negotiations. Taking a clue from them, fintech companies realized that finance could become an incredibly offering topic once the social component is integrated. 
For example, features like Revolut's gif and emoji replies make it easier and more comfortable for people to ask friends for loans or remind them to pay them back. Friends recommendation codes that benefit existing and new users transform signing up for a financial service into a group activity that you can share with your close ones. 
The most successful present and future fintech products are built with a social mentality that considers what users want from the actual financial app or service and how they want to engage with it and their peers. 
Financial products become more inclusive
If you ask Generation X or Boomers to paint you a picture of the average person using investment services, they will describe a 50-something-year-old male, dressed in a suit, with a newspaper in hand and a very serious grim on his face. 
While this was the case 20 or even 10 years ago, nowadays, investing has become a significantly more approachable experience. Apps like Robinhood or eToro enable aspiring investors to access the stock market without requiring them to talk to a broker or pay huge fees. Since there is no lower limit to what they can invest, the experience becomes significantly more democratic for the average person. 
In the past year, high inflation rates motivated Romanians to invest in several options, from stocks to crypto. In fact, according to FCI data quoted by the Bucharest Stock Exchange, at the end of 2021, there were over 80,000 Romanian investors on the national stock exchange. On the other hand, eToro information shows that Romanians who activate on the platform follow the general, global trends, as they prefer companies like Nio, UI Path, Tesla, Meta Platform, and Apple. 
Apart from this, we have crypto investments that have also gained much ground in our country, as, nowadays, most people with Internet access have heard about digital assets. As sources show, 40% of these Romanians own or have owned cryptocoins. 
This shift to a fresh, more inclusive outlook on investing using fintech platforms contributes to the emergence of new consumer groups. Younger audiences, both males and females, with disposable income and a solid need to achieve financial freedom significantly sooner than their parents, are the new targets for financial services. 
Since they are the first Generation to be digital natives, they come with a completely new approach and requirements. The mere concept of friction is tedious for them, so they require highly digitized experiences that are smooth, seamless, and extremely convenient. Fast transfers, instant views of their investments, access to visual dashboards, and easily digestible educational content, mostly under tips and tricks capsules, are only some of the must-haves that are raising the bar for financial products that want to go into the mainstream. 
Embedded finance turns every company into a fintech company
Embedded finance is changing the landscape as we know it, transforming every company into a fintech company. Organizations in industries like telco, retail, big tech, or car manufacturing are integrating lending, payments, processing, or insurance into their businesses' infrastructures, without redirecting users toward traditional financial institutions. 
Starbucks made headlines with its loyalty program that attracts people to add money to their Card Mobile app to enjoy different rewards, like free wi-fi. According to company data, around $10 billion are loaded each year on the Starbucks card program, which is about half of the company's sales. The coffee chain that works with a "Starbucks is a bank" vision is, basically, borrowing $1.6 billion from their customers while benefiting from 0% interest. This approach enables it to use the cash flow for the brand's development and operations. 
Still, things don't stop here. Embedded finance also helps Starbucks save millions on banking fees and take advantage of the dollars customers forget to spend. According to sources, in 2018, their value was about $155 million. 
Analyzing this example, it's understandable why more and more nonbanks will soon be offering embedded financial services to retain customers, increase their lifetime value and benefit from operational capital that they may use according to each company's needs. 
How fintech fits the bigger picture
Although many view fintech as an emerging industry that will change the financial landscape, threatening traditional institutions, things look significantly different from the inside. Truly successful fintech brands and products must bring added value to consumers and partners, supporting and contributing to the growth of other businesses. 
The future is collaborative, and fintech is not a goal in itself but a crucial piece of a bigger puzzle meant to bring financial inclusion, flexibility, and convenience to the world.