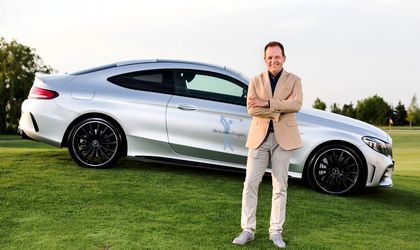 Martin Schulz (45), now Head of Product & Marketing at Mercedes-Benz Korea, will take over as CEO of Mercedes-Benz Romania from his predecessor Philipp Hagenburger as of June 1, 2019. From May 1 2019, Philipp Hagenburger (54) is part of the Daimler South East Asia Pte team. Ltd, as CEO, after successfully running the Passenger Cars division and driving Mercedes-Benz Romania for three years.
Martin Schulz joined the Mercedes-Benz team 20 years ago, and his professional career included assignments in several countries. In recent years, he has been in charge of Sales & Marketing activities in Vietnam and Thailand, and since 2016 he has served as Head of Product & Marketing, Mercedes-Benz Korea.
"I am more than happy to welcome Martin Schulz to Mercedes-Benz Romania and I am convinced that his complex know-how will make an essential contribution to achieving new success in the market," said Matthias Luhrs, Head of Region Overseas Mercedes-Benz Cars. "Philipp's extensive experience and leadership has played a particularly important role in building an impressive heritage for the company in Romania. I am grateful for the proven commitment and performance and I am convinced that his collaborative approach will bring success to Singapore and Southeast Asia," added Luhrs.

"I am very excited to join the Mercedes-Benz team of Romania and, together, continue to strengthen Mercedes-Benz's position on the market and carry on the extraordinary work with which we have accustomed our customers and partners. The innovative product and service portfolio provides us with the best premises for establishing a strong foundation for future mobility as well as maintaining the highest quality standards for Romanian customers," said Martin Schulz.
After starting his career in Daimler's retail network in 1999, Philipp Hagenburger's professional career includes remarkable functions such as Head of Customer Services in Augsburg (Germany, 2004) and Romania (2009), Mercedes CEO and President -Benz Egypt (2012-2016), then CEO and President of Mercedes-Benz Romania, from the beginning of 2016.
"For me, these three years have amounted to significant personal and professional achievements. 2018 was the sixth consecutive year in which Mercedes-Benz was the leader in the segment of premium cars in Romania. I am grateful to the professional team we worked with, whose determination and involvement contributed to reaching a market share of 44.3% in the premium premium segment of Passenger Cars in the previous year. I look forward to the new challenges and I want Martin to be very successful in his new role," said Philipp Hagenburger.
Martin Schulz has significantly contributed to building the success story of Mercedes-Benz Korea in recent years and will now continue to strengthen Mercedes-Benz's position in Romania since June 2019.