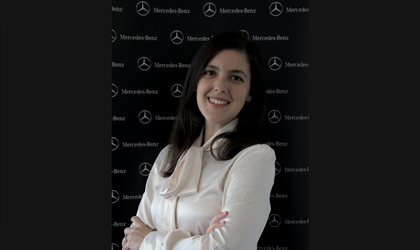 Natalie Thompson (32), currently in the position of Head of Marketing and Communications at MBGD in Dubai, will take over the responsibility of CEO of Mercedes-Benz Romania, starting with the fourth quarter of 2023, replacing Amanda Zhang, recently appointed as CEO & President of Mercedes-Benz Cars Malaysia & Head of Region, Mercedes-Benz Cars SEA II.
Natalie has 12 years of experience in the automotive industry, holding various leadership roles across multiple markets. In 2014, she joined the company at Mercedes-Benz UK as an integral part of the Product Management team. Starting with 2016, her work at Mercedes-Benz continued in the Middle East, as Product & Pricing Manager, before taking over the leadership of the Marketing and Communications team. In 2022, as part of Mercedes-Benz General Distributors transformation, Natalie played an instrumental role in the development and roll-out of the GD Marketing Excellence Center in EMEA.
"It is a great honor for me to join the Mercedes-Benz Romania team as CEO. I am very excited to contribute to the development of our iconic brand in such a dynamic market. With a talented team, an exceptional product range, and superior services, I am confident that we can continue to provide unique experiences to our customers and bring significant innovation to the local automotive market," said Natalie Thompson, showing her enthusiasm for the new position. 
Until Natalie is officially installed in office, the role will be held in interim capacity by Radu Mocanu, Head of Sales Mercedes-Benz Passenger Cars, who has been part of the company for the past 9 years and has an extensive experience of more than 21 years in the automotive industry.